Mortgage lending dip continues, says CML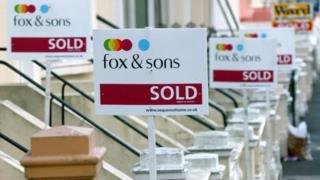 UK mortgage lending in November returned to the level seen a year earlier, lenders say, offering more evidence of a post-summer slowdown.
Gross lending totalled £16.9bn in November, down 9% from October, the Council of Mortgage Lenders (CML) said.
The trade body said that stamp duty reforms announced in the Budget would increase activity temporarily.
But it has predicted that lending in the next two years will rise at a slower rate than in 2014.
It added that a "gentle trajectory" for the mortgage market would "calm" any concerns over the effect of a housing boom on the UK economy in general.
There are 11.1 million outstanding mortgages in the UK, worth £1.3 trillion.
House price calculator
Use our calculator to see where you can afford to rent or buy
In the Budget, Chancellor George Osborne said that stamp duty was an "outdated, badly designed" system
The system that ended on 3 December saw buyers charged stamp duty in the UK as a percentage of the whole of the property price.
Now, the new rates of stamp duty only apply to the amount of the purchase price that falls within the particular duty band, making it more like income tax.
The system will operate across the UK until April, after which Scotland will break off to use its own system.
"The reform in stamp duty is likely to provide a modest short-term boost in activity over the next few months, but its impact will fade away in the medium term," said Mohammad Jamei, CML economist.
The CML said that it expected the number of homes being sold in 2015 and 2016 to slow slightly to 1.18 million in each year.
It predicts gross lending will increase at a slower rate than it did in 2014, reaching £222bn in 2015 and £240bn in 2016.
Any danger of a boom would be restricted by affordability, it said.