More Lloyds shares to be sold by the government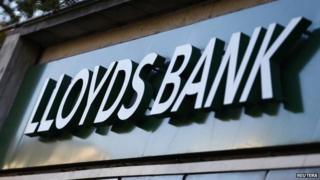 More shares in Lloyds Banking Group are to be sold by the government, in a move which could raise up to £3bn.
At present, the UK bank is 25%-owned by the taxpayer, but after the latest sale, this stake could fall to 20%.
A trading plan has been launched to allow the shares to be sold gradually "in an orderly and measured way", the government said.
Previous sales of Lloyds shares have raised £7.4bn and cut the taxpayer's stake in the bank from about 40%.
"I can confirm today that the government is taking the next step in returning Lloyds Banking Group to private ownership," Chancellor George Osborne said.
The government said shares would not be sold below the average price paid by the previous government of 73.6p.
The trading plan will be managed by investment bank Morgan Stanley.
On Tuesday, shares in Lloyds closed at 76.9p. although they closed at 75.4p on Wednesday.
Reacting to the government's announcement, a Lloyds spokesman said: "This reflects the hard work undertaken over the last three years to make Lloyds a safe and profitable bank that is focused on supporting the UK economy."
Lloyds, which was bailed out by the UK government at the height of the financial crisis in 2008, has been hampered by fines for misconduct and the spin-off of TSB bank, as well as other asset sell-offs.
Nonetheless, the Bank reported pre-tax profits of £1.61bn for the nine months to 30 September, although it simultaneously announced 9,000 job losses and the closure of 150 branches over the next three years.
On Tuesday, a Bank of England "stress test", designed to assess the ability of UK banks to withstand another financial crisis, found that Lloyds Banking Group was still at risk in the event of a "severe economic downturn".