Pension 'guilty secrets' exposed in management fees report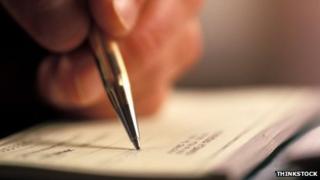 Pension savers with the smallest pots can be exposed to the highest levels of charges, an independent report has revealed.
The study of management fees has found that many savers in workplace pension schemes face charges of more than 3% a year.
The majority of these are held by savers with pots of less than £10,000.
A body representing providers said that the evidence in the report was largely historic.
The Association of British Insurers (ABI) said that the level of charges has been falling significantly in recent years.
But Pensions Minister Steve Webb said the report had exposed the industry's "guilty secrets and murky past". He has threatened legislation if providers do not provide value for money in pension schemes, although this would not happen before the General Election.
---
Pensions explained
A defined contribution (DC) workplace scheme is where both the employee and the employer pay contributions each month. Those contributions are usually invested into shares or bonds.
The ultimate size of the pension pot depends on how well those shares and bonds perform, and on the amount of charges that are deducted for management fees every year.
When they retire, savers often use that pension pot to buy an annuity, which will pay them an income for the rest of their lives. These numbers have been falling owing to greater access to savings announced in the Budget.
Under DC schemes, workers carry the investment risk, and there is no certainty about what they will receive in retirement.
---
Millions saved
The Independent Project Board has been studying the potential level of fees for savers in workplace defined contribution schemes since last year. It concentrated mostly on older, "legacy" schemes.
It found:
Out of £67.5bn of funds being managed, up to £25.8bn could face management charges of more than 1% a year
Of these, up to £8bn of funds being managed could face charges of 2%
Up to £900m of funds being managed could face charges of more than 3%
Some 291 different combinations of charges are in place
An estimated 407,000 savers who have joined schemes in the last three years could face charges of more than 1%
Some savers who leave schemes early could face exit charges of 10%
The government has set a management fees cap of 0.75% for workplace schemes which takes effect from April. However, this only applies to the default scheme for people joining - or automatically enrolled - into a workplace scheme.
Many savers will not be protected by this cap, so the report has criticised some of the high charges they face. The authors have written to providers in this situation and said they expect a justification for any high charges by June next year at the latest.
The pensions minister said he would call in some providers in the new year, expecting quick action, otherwise they could face legislation.
However, the trade body for providers said that changes were already being made.
Huw Evans, director of policy at the ABI, said: "How much people save and for how long can have an important impact on charge levels, and investment performance and quality of scheme governance also matter.
"Providers will welcome the clarity this report provides and will remain absolutely committed to building on the radical changes of the last decade, which have already seen average pension charges fall to their lowest-ever levels for auto-enrolment schemes."
The ABI said that these legacy schemes were regulated, so there should be no requirement for refunds to anyone who has paid high charges in the past. The pensions minister also accepted that securing any compensation of this kind would be a challenge.