Wage growth picks up as UK unemployment falls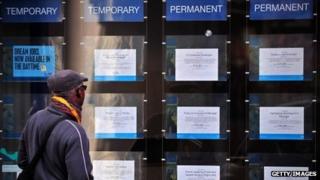 Wage growth in the UK is picking up, figures from the Office for National Statistics (ONS) indicate.
In the August-to-October period, average earnings excluding bonuses were up 1.6% from a year earlier. Including bonuses, earnings rose by 1.4%.
It is the first time for six years that both measures of earnings growth have been above the inflation rate.
Meanwhile, the number of people unemployed in the quarter fell by 63,000 to 1.96 million.
The fall was the slowest quarterly fall for a year, leading some analysts to speculate that the rate of improvement may have peaked.
The jobless rate was 6%, matching its lowest level in six years.
The ONS figures also showed that there were 30.80 million people in work in the three-month period, 115,000 more than for the May-to-July period, driven by more people in full-time work.
The number of people claiming Jobseeker's Allowance in November fell by 26,900 to 900,100.
'Decent improvement'
For the month of October alone, pay including bonuses, increased by 1.8%. That compares to an inflation rate of 1.3% in the same month.
November's inflation figures were released on Tuesday and showed it falling further - to a 12-year-low of 1%.
Bank of England policymakers expect that trend to continue.
Earlier on BBC Radio 5 live, the Bank of England's deputy governor, Jon Cunliffe, said UK inflation in the coming months was "going to be low".
Analysts were encouraged by the earnings growth.
"Earnings growth is finally starting to open a clear positive gap over inflation, which is serious good news for consumers," said Howard Archer, economist at IHS Global Insight.
"This bodes well for consumer spending in 2015, although it needs to be borne in mind that consumers have faced a prolonged squeeze on their purchasing power.
"Meanwhile, the labour market is still seeing decent improvement, although the underlying rate of improvement is showing signs of moderation," he added.
However, TUC general secretary Frances O'Grady said the figures showed "some long overdue improvements, but at this rate it will take over a decade to recover the real value of people's earnings".
---
Analysis: Robert Peston, BBC economics editor
It has been a journey of a good six years, give or take the odd blip, but weekly earnings do now seem to be pulling ahead of Consumer Price Index (CPI) inflation.
This is especially true of the private sector, which accounts for 82% of jobs (and rising) - where average weekly earnings rose 2.2% in October, compared with inflation of 1.3% in that month and 1% in November.
The fastest wage growth was 3% in finance and business services - don't curse please, it's unbecoming - and 2.7% in construction.
The shrinking public sector saw a less-than-inflation 0.5% rise.
---
In a tweet, Prime Minister David Cameron said: "Employment is at a record high & average earnings are rising faster than inflation. More to do, but our long term economic plan is working."
Deflation risk
But Rachel Reeves, the shadow secretary for work and pensions, said some groups were still struggling to find work.
"Long-term youth unemployment has risen over the last few months. So there's still much more that the government needs to do."
Separately, minutes from the last meeting of the Bank of England's Monetary Policy Committee (MPC) showed that policy makers again voted 7-2 to keep interest rates on hold at 0.5%.
MPC members Ian McCafferty and Martin Weale continued to vote for a rise in rates to 0.75%.
However, the majority of MPC members felt that pay growth had to accelerate before inflation would begin to approach the Bank's target of 2%.
Coupled with the risk of deflation, analysts said that interest rates could remain at their record low for some time.
"Indeed, given the weight of downward pressure on prices, there is a far from minimal chance that rates could stay on hold throughout 2015," said Martin Beck, senior economic adviser to the EY Item Club.