Low oil price to push petrol below £1 a litre, says RAC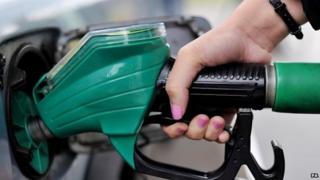 Petrol could soon sell for below £1 a litre thanks to the plummeting price of oil, motoring organisation the RAC has predicted.
If the prediction proves to be correct, it would mean the price of petrol was at its lowest level since May 2009.
Its forecast is based on the price of Brent crude, which on Tuesday fell below $59 a barrel for the first time since May 2009, continuing to drop.
The RAC said it expected petrol to be below £1 a litre early in 2015.
"Talk of prices going up like a rocket and falling like a feather could not be further from the truth as retailers have been quick to pass on savings at the forecourt," said RAC fuel spokesman Simon Williams.
The RAC said its monitoring of fuel prices indicated the average price for a litre of petrol was currently 116.9p - nearly 14p a litre cheaper than at the start of the year.
And it said diesel was nearly 16p cheaper at 122.33p a litre now, compared to 138.24p in January.
The average supermarket price of fuel is 114.26p a litre for petrol and 120.18p for diesel, it added.
However, the RAC cautioned that the oil and fuel market were volatile, and that its forecast could change if factors such as the strength of the pound against the dollar or the global production of oil changed significantly.