Post Office card account's future secured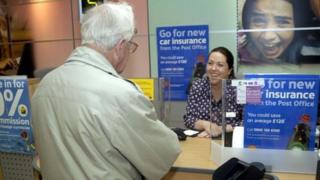 A contract has been renewed that will secure the future of the Post Office card account until at least November 2021, the government has confirmed.
Most claimants of benefits, pensions and tax credits have the money paid directly into a bank account.
But 2.5 million people, who often do not have a bank account, have the funds paid into the card account instead.
The previous contract between the government and the Post Office had been due to expire in March 2015.
'Lifeline'
The card account, which has no overdraft facility or charges, allows holders to draw out their pension or benefits in cash at the Post Office's 11,500 branches or 2,500 cash machines. It is used by about 1.3 million pensioners.
For some time, claimants have not been able to receive their benefits or pensions directly in cash at the counter. That was why the card account was originally set up.
"Although most people have a bank account, there are certain groups for whom this is not viable and, for them, the Post Office card account provides an important lifeline," said Pensions Minister Steve Webb.
He said that the new contract was 10% cheaper than the previous contract, but the amount paid to subpostmasters per transaction remained the same.
George Thomson, general secretary of the National Federation of Subpostmasters, said: "The renewal of the Post Office Card Account will help provide the Post Office network with a more stable future."
In July 2011, a computer problem temporarily blocked access for people with a card account, although special arrangements were made for emergency cases.