The Norwegian firm that tests the world's ships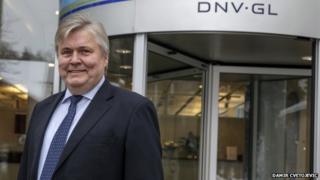 For a business that few people have heard of, and whose uninspiring name sounds a few digits short of a number plate, Norwegian company DNV GL continues to pass the test of time.
Celebrating its 150th anniversary this year, and with an annual turnover of more than $3bn (£2bn), its chief executive Henrik Madsen says with a grin that the firm "has a very robust business model".
Probably its most well-known project came when it was appointed by US authorities to get to the bottom of what caused the 2010 Deepwater Horizon oil spill in the Gulf of Mexico.
Yet when you are first told about DNV GL, getting your head around exactly what it does can be a bit of a challenge.
After all, the company employs 12,000 engineers around the world, but it doesn't design, build or operate anything.
Instead, DNV GL is one of a handful of global organisations known as a "classification society". So far so even more confusing.
Put simply, classification societies check and test on the structural and operational standards and safety of things such as cargo ships, offshore oil rigs, electricity power grids and wind farms.
And without certification from the likes of DNV GL such ships are not deemed seaworthy, oil rigs cannot begin operations, and power grids cannot be switched on.
It is a vital, but unsung role, and also a lucrative one.
DNV GL and other such societies also carry out investigation work if something ever breaks or goes wrong, but never into anything they themselves have signed off on.
"We like to think of ourselves as a bunch of engineers who make the world a better place," says Mr Madsen.
Historic background
Like most of its big rivals, DNV GL traces its origins back to the 19th Century.
France's Bureau Veritas was formed in 1828, the American Bureau of Shipping in 1862, and Italy's Rina in 1861. DNV GL's predecessor, DNV, followed in 1864.
Only the UK's Lloyd's Register was set up much earlier, in 1760.
They were all formed, in essence, to reduce the number of substandard, unsafe ships that were sinking at the time. It then became the norm that any ship that had not been approved by a classification society could not be insured.
And over the years, classification societies have widened their operations to cover other industrial sectors.
Fast-forward to today, and DNV GL remains a profit-making private company. This is in contrast with some of its rivals, with the American Bureau of Shipping being a not-for-profit operation, and Lloyds Register, which is a charity.
DNV GL employs 16,000 people around the world, with only 2,500 based in Norway. It operates in 110 countries, and has 70,000 business customers.
The current incarnation of the business was formed last year when Norway's DNV (short for Det Norske Veritas) merged with Germany's GL (Germanischer Lloyd).
While financial details have not been revealed, DNV took a majority 63.5% stake in the new entity. And its base near Oslo became the group-wide headquarters.
'Nutty professor'
Henrik Madsen, 61, who led the merger, first joined DNV as a bottom-tier engineer in 1982.
The Dane joined DNV's research department after gaining a PhD in structural engineering.
In 1990 he moved into a managerial role, first running DNV's operations in Denmark, and then spending four years leading the firm's business in Japan.
He then returned to Norway, where he held a number of senior roles before being appointed chief executive in 2006.
Despite running a business with such an extensive global reach, and being a self-confessed "nutty professor type", he says that it is relatively easy to manage engineers.
"I'm an engineer myself, and I have always said that engineers are quite simple people - give them something interesting to do and they just go along with it," he says.
As well are organising the merger with GL, Mr Madsen has led a number of takeovers in recent years, especially of small renewable energy firms.
This is so DNV GL can increase its expertise in this sector, and therefore raise the number and value of certifications it gives renewable energy technologies, such as wind turbines or solar panels.
With no parent company to report to, he says that profits are reinvested in the business, with 5% ring-fenced each year for research and development, as the business aims to keep up with technological developments.
"Doing all the deals is fun and exciting, but you still have to find the time to do the day-to-day running of the company," he says.
"I'm only the 10th CEO [chief executive officer] in the company's history, so I'm aware of my place. I need to leave the business in a better shape for the next generation.
"If you are yourself, behave honestly, respect others, and be humble, then things will work out fine."