RBS shrinks Irish arm as it sells £4.8bn property loans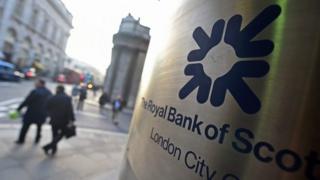 Royal Bank of Scotland is to sell £4.8bn ($7.5bn) of problem Irish property loans to US private equity firm Cerberus.
RBS said the deal was part of its plan to strengthen its capital position and reduce its exposure to risk.
RBS will receive £1.1bn for the loans, which made a loss of £0.8bn last year.
Earlier, National Australia Bank, which owns Clydesdale and Yorkshire banks, said it had sold £1.2bn of risky UK commercial property loans to Cerberus.
NAB said the deal was part of its strategy to exit an unprofitable business.
Strengthening finances
Cerberus, which aims to squeeze value out of problem assets, has been buying up packages of risky loans from UK banks as they offload problem assets.
RBS' announcement came just after it was revealed that the Bank of England had found the lender, alongside Lloyds Banking Group, at risk in the event of a "severe economic downturn".
The Bank of England tested the lenders' resilience to a 35% fall in house prices, and a 30% drop in the value of the pound, among other factors.
"The transaction... is in line with the bank's plan to strengthen its capital position and reduce higher risk exposures," RBS said in a statement.
Meanwhile, NAB said the sale of the mainly defaulted loans would reduce higher risk loans in its commercial real estate business by 93%.
In a filing to the Australian stock exchange, the lender's group chief executive Andrew Thorburn said the sale of the loans was "another important milestone in our strategy of reducing our low returning legacy assets and sharpening our focus on our core Australian and New Zealand franchises".
The UK business has been a drag on NAB's earnings. Bad debt charges have led to repeated falls in the bank's annual profit.