Poorest households face fastest cost of living rise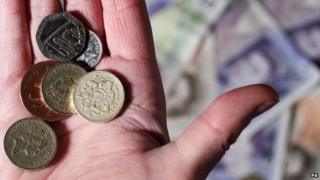 UK households with the lowest income faced the fastest cost of living rise in the past 11 years, figures show.
The rising cost of domestic gas and electricity was one suggested reason for the trend.
Households without children and retirees also experienced faster price increases in their typical basket of goods, the Office for National Statistics (ONS) said.
The ONS analysed inflation rates for different households from 2003 to 2014.
Those who spent the most money saw the lowest level of inflation, the ONS concluded.
This could be explained, in part, by prices of package holidays and education barely rising over recent years.
The ONS said that households in the bottom 10% of the income scale had an average annual inflation rate of 2.9% each year from January 2003 to October 2014.
This compared with an inflation rate of 2.6% among the wealthiest 10% of UK households.
TUC General Secretary Frances O'Grady said: "This shows that people on low and middle incomes have seen their living standards fall the most. Households on lower incomes have faced a double whammy of the highest inflation rates at the same time as stagnating wages."
The ONS said the top 10% of households in terms of spending saw prices rise, on average, by 2.3% over the same period. This compared with 3.7% among the 10% of households which spent the least.
Households with children saw the cost of living rise by 2.4% on average each year, compared with 2.7% for those without children.
Non-retired households saw prices rise on average by 2.5%, compared with 2.8% for retirees.
Researchers at the Alliance Trust have tracked inflation rates for different age groups in recent years.
It suggested that those aged 75 and over spent a bigger proportion of their income on gas, electricity and food than any other age group - with the proportions rising steadily with age.
Caroline Abrahams, charity director at charity Age UK, said: "Because older and lower income groups spend a greater proportion of their income on essentials such as food, fuel and energy, they are far more vulnerable to the price increases we have seen to these items since 2003.
"With 1.6 million pensioners living in poverty and a further one million just above the breadline, many are struggling to afford the basics, let alone anything else. Yet at the same time up to £5.5bn worth of pensioner benefits goes unclaimed each year."
The charity has a guide to claiming benefits on its website.