Australia's budget deficit to widen by A$10bn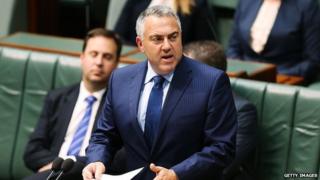 Australia's government has said it expects the nation's deficit to grow to $40.4bn Australian dollars ($33.2bn; £21.2bn) in the 12 months to June.
Earlier in the year, the deficit for the period had been forecast to come in at A$29.8bn.
The country's treasurer, Joe Hockey, said falling prices for key export commodities had hurt the economy.
The nation's mid-year economic outlook was delayed on Monday due to a siege situation in Sydney.
Mr Hockey predicted the shortfall for the 2015-16 financial year would be A$31.2bn, up from a previous forecast of A$17.1bn.
The Mid-Year Economic and Fiscal Outlook (MYEFO) updates Australia's economic outlook from the previous budget.
More work to do
The report said the nation's tax receipts had been revised down by $A31.6bn due to a more than 30% fall in iron ore prices, together with weaker-than-expected wage growth.
"Government payments have also been affected," the MYEFO report said.
"Delays in passing legislation and negotiations with the Senate have cost the budget more than $A10.6bn over the forward estimates, keeping debt and interest payments higher for longer."
The report also said the deficit should narrow to $A11.5bn by between 2017 to 2018.
"This reinforces that there is much more work to do and budget repair will take time," it said.
Sydney-based economist Katrina Ell told the BBC that falling iron ore prices and stubbornly soft growth in the non-mining sector meant "a budget blowout was going to occur".
"The initial budget estimates back in May seemed overly optimistic," she said.
Not all bad
Despite the change to the deficit forecast, the government noted that Australia's economy would continue to be supported by historically low interest rates, lower energy prices, and a weaker Australian dollar.
One area of focus for future growth would be continued investment in infrastructure projects, which would help create more jobs and reduce congestion in busy urban areas.
"In total, the [infrastructure package] will lead to over $A125bn of new productive infrastructure over the next decade," the MYEFO said.
Ms Ell also explained that the government was "accepting its budget blowout rather than cutting back spending further to get a medium-term surplus".
"This means that there will not be additional pressure on public sector jobs and wages, which is good news for household spending and the broader economy."
She said it was not appropriate for the nation's fiscal policy to tighten further.
"For over two years, monetary policy has been doing the heavy lifting to guide a smooth transition away from mining investment and towards domestic drivers," she said.
"It's time for fiscal policy to step up to the plate and aid the transition."