Premier League opens TV rights bidding process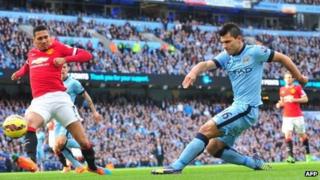 The Premier League has opened bidding for the next tranche of television rights, for live games and highlights, from season 2016-17 to 2018-19.
There will be 168 live matches up for grabs - up from the current 154 matches, split into seven packages.
No single bidder will be allowed to acquire more than 126 matches.
The current live rights are shared by Sky with 116 games, and BT with 38, and the pair - in a battle for sports fans - are sure to be among the bidders.
Saturday tradition
Up to 10 Friday night games will be offered as part of the new rights offering.
They will be drawn from the package that covers Monday night matches, so the broadcaster that wins that particular package will have up to 10 Friday night games and 18 Monday night games over the course of the season at their disposal.
In 2012 Sky and BT forked out £3.018bn for the rights, an increase of £1.25bn - or 77% - on the previous deals.
The Premier League said the new rights sale would see the continued protection of the Saturday 3pm "closed period", whereby no games can be shown live on TV at that time.
The purpose of the blackout is to encourage attendances and participation at all levels of football at the traditional kick-off time.
However, an ongoing competition probe by Ofcom, following a complaint by Virgin Media, is canvassing the views of fan groups as well as television consumers, media groups, and the football authorities, on this issue.
After details of the next TV rights packages were announced, the Football Supporters Federation said that an increase in the number of matches taking place away from 3pm on Saturdays "would have a detrimental impact on match atmosphere and interests of supporters".
---
Analysis: Richard Conway, BBC Radio 5 live sports news
This invitation to tender fires the starting pistol on the race to secure some of the most highly prized TV rights in sport. The last deal secured a blockbusting £3bn from Sky and BT, along with a further £2bn from overseas broadcasters.
Premier League chief executive Richard Scudamore will want to sustain those phenomenal numbers. To help achieve that it's understood broadcasters will be offered a small number of games on Friday nights.
The football calendar only permits a handful of matches on Fridays but it's thought the opening weekend of the 2016 season, when the new deal begins, could be one of them.
The move is likely to come as a disappointment to football traditionalists and fan groups who feel timeslots are not picked with those who attend games in mind. The small number of Friday night games would be drawn from one of the existing rights packages.
---
'Slightly restructured'
Virgin had complained that a lower proportion of matches (41%) is shown on TV in England compared with other major European markets, and that as a result fans were having to pay more for their product.
The new arrangement means that 44% of Premier League games will be available live from 2016.
But Brigitte Trafford, Virgin Media's chief corporate affairs officer, said: "This slightly restructured auction simply highlights how few of the Premier League's games will be available on live TV.
"It doesn't change the fact that UK fans will continue to pay the most for the least amount of football in Europe."
Highlights
No TV firm will be able to show more than five packages, or a total of 126 matches. This means that at least two packages and 42 games will be available to a second broadcaster.
A separate sales process will take place later for two other - on-demand and internet clips - packages.
Premier League TV rights have soared in price since Sky paid £304m in a five-year deal in 1992.
The BBC has held the rights to the Premier League highlights package since 2004, although media reports suggest that ITV is set to launch a challenge this time round.
The tender process for both the highlights and live rights is set to be completed within four months, with a decision in March.