Chinese construction giant buys Australian building firm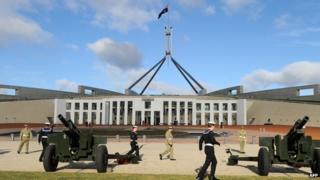 A Chinese construction giant is set to buy one of Australia's largest construction companies for $1.15bn Australian dollars ($951m; £603m).
China Communications Construction International (CCCI) will buy Leighton Holdings' building unit John Holland.
CCCI is a subsidiary of China Communications Construction Company (CCCC), which is the world's fourth largest construction firm by revenue.
Just last month, China and Australia signed a major free trade agreement.
Ties between the two countries are an important source of growth especially for the Australian economy, with China as its largest trading partner.
The move also comes after Australian Prime Minister Tony Abbott promised during last year's election campaign that he would to spend a record A$50bn on Australia's transportation system.
John Holland, which built Australia's parliament building, had revenue of A$4.5bn last year.
About 4,100 of the unit's 5,000 workers will transfer to the new business, Leighton Holdings said in a statement on Friday.
The sale is subject to regulatory approval from Australia's Foreign Investment Review Board.