One in five firms face supply chain bullying, says FSB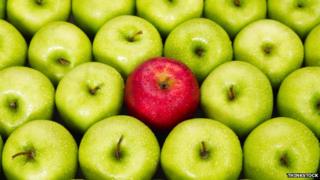 Almost a fifth of companies face unfair supply chain practices, including "pay-to-stay", according to the Federation of Small Businesses (FSB).
The lobbying group said it had found "alarming levels of widespread unfair dealing" in a survey of its members.
In a "pay-to-stay" arrangement, a company demands that suppliers pay a fee to continue doing business with the firm.
This week Premier Foods backtracked on its controversial "pay-to-stay" policy.
'Sharp practices'
The FSB said it had found "alarming evidence of supply chain bullying" in a survey of about 2,500 of its members.
"When the public think of their favourite brands, they are unlikely to connect them with the sort of immoral payment practices which are becoming all too common across an increasing number of industries," said FSB national chairman John Allan.
"However, it is clear that whenever these examples come to light, the public shares the same sense of moral outrage as the small firms that have to put up with them on a daily basis."
The FSB found that 5% of businesses had been asked to make a payment by a customer or face being taken off a supplier list.
Further "sharp practices" included retrospective discounts, where firms seek to apply discounts to outstanding money owed to a suppler, late payment and discounts for paying on time, FSB said.
'Unacceptable behaviour'
The Department for Business, Innovation and Skills (BIS) said: "This behaviour is unacceptable and we want it to stop."
"Many small suppliers feel they are being exploited and we are acting to see that this changes.
"Large companies need to behave responsibly and should not be using their financial clout to mess their suppliers around."
BIS said that it had recently asked watchdog the Competition and Markets Authority (CMA) to investigate "pay-to-stay" clauses.
It added that it was giving "teeth" to the Prompt Payment Code, an initiative designed to encourage best payment practices, and changing the law "to make sure that smaller businesses can see which big companies treat their suppliers fairly".
Last week, Premier Foods, the company behind brands including Oxo and Mr Kipling, was criticised strongly after the BBC revealed it had received millions of pounds from "pay-to-stay" payments.
Premier said on Sunday that the arrangement had been "misunderstood and misinterpreted".
Nevertheless, Premier said it would revert to a more "conventional" scheme, where the firm will still seek discounts from suppliers, but will no longer request upfront payments into the business.