Pension firms failing consumers, says FCA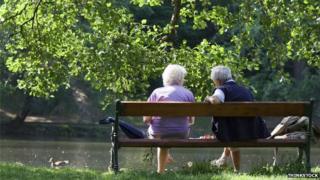 Some pension providers are failing their customers, the Financial Conduct Authority (FCA) has said.
Its review of the pensions market found most consumers were missing out on a higher income from their annuity because they did not shop around.
In particular, it said those who bought annuities were not being told about better value policies.
Enhanced annuities are designed to provide a higher income to those with major medical conditions.
It said some firms fail to tell customers with shorter life expectancy that they could get a better deal from a different pension provider.
As a result, it is recommending that providers should be forced to tell customers how their quote compares with others on the market.
"We want the industry to play its part; we want to clean up how people are presented with their options," Christopher Woolard, the FCA's director of policy, risk and research told the BBC.
The insurance industry said it had always stressed the value of shopping around.
"Providers recognise that in the new pensions world of greater choice, more needs to be done to ensure good outcomes for customers," said Otto Thoresen, the director general of the Association of British Insurers (ABI).
'Smoking gun'
The FCA also said that buying an annuity - an income for life - could still be the best option for many people.
Since the government's announcement of pension reforms in the budget, there has been a significant decline in annuity sales.
It was thought that income drawdown might be a better and more flexible option.
But the FCA said that for people with average-sized pension pots, and low risk appetite, annuities offer "good value for money" compared with drawdown.
The FCA's investigation has stopped short of exposing historical pensions mis-selling, which some in the industry had been expecting.
"The FCA has not found any evidence of widespread mis-selling of annuities; there is no smoking gun," said Tom McPhail of Hargreaves Lansdown.
"In fact, they have gone further than that by explicitly endorsing annuities as good value for money, but only if customers shop around on the open market," he said.
Shares in annuities provider Just Retirement Group rose significantly as a result.
The FCA is seeking views on its initial findings and will consult at a later date if any rule changes are needed.