Investec apologises after 'I can't breathe' backlash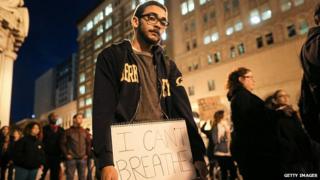 South African bank Investec has apologised after the headline "I can't breathe" on a research note caused an uproar on social media.
The bank used it in a briefing about Standard Chartered facing regulatory hurdles in the US.
It echoes the last words spoken by Eric Garner, an unarmed black man killed by US police in an apparent chokehold in July.
The words have become a slogan in US protests against police violence.
"Investec apologises unreservedly for the inappropriate content in this morning's research note on Standard Chartered and for any offence caused," the bank said on Wednesday.
"The content in question does not represent the views of Investec."
Outcry over comparison
In the research note, London-based analyst Ian Gordon had originally drawn more comparisons between the Garner case and the US government's scrutiny of British bank Standard Chartered, but that was edited out by Investec's compliance team before it was published.
Mr Gordon said the US government put too much control and influence on the bank's business.
Meanwhile, protests erupted in the US earlier this month after authorities decided not to press charges against the white police officer over the apparent chokehold, that led to the death of Mr Garner in New York.
Mr Garner, 43, was arrested on a street after he was thought to be selling illegal loose cigarettes. In video footage shot on a mobile phone he was heard saying "I can't breathe" as he was restrained by police.
He became unresponsive and later died.
Investec's note has received heavy criticism on social networks with New York's banking regulator Benjamin Lawsky tweeting: "Terrible. Should be disavowed with apologies by Investec."