Transitioning to a world with cheaper energy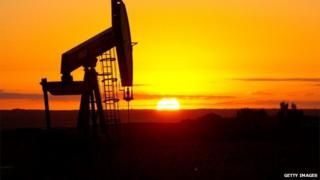 OPEC's latest forecast shows that the supply of oil will exceed the demand for oil next year. Whenever supply exceeds demand, prices fall. And they certainly have.
Brent, the international benchmark, has plunged to below $65 per barrel, down 43% since this summer, to the lowest level in five years, the 2009 global financial crisis.
Markets fell too. At the close, US markets, which had been hitting highs, dropped 1.6% and all of the main sectors fell by at least 1%.
Global stock markets, as reflected in the MSCI All-World Index, followed and fell by 1.2%. When I last checked, Asian markets were mixed, with main indices like the Nikkei down.
It's unsurprising that oil producers like BP and Exxon would see their market value fall, but the wide sell-off belies the fact that some companies like airlines will benefit from lower fuel costs and those shares rose.
The overall drop in the market is due to uncertainty over what a new, much lower oil price, will mean for not just companies, but industries like shale, as well as countries that rely on selling oil at around $100 per barrel to balance their books.
OPEC pressure
OPEC estimates that supply will exceed demand for oil by some 1 million barrels, since 2015 demand is forecast at 28.92 million barrels per day while their production target is 30 million barrels a day. But, OPEC says that they won't cut production even as prices for oil fall.
One cause for the forecast of excess supply over demand is that the US reported an increase in stockpiles due to shale when a decline was expected.
Lower oil prices poses challenges for shale producers whose more expensive production may struggle when oil is less than $70 per barrel.
Yet, by both gauges, Brent and WTI, oil is below that now and some analysts forecast that oil could remain around this level. After all, Chinese demand won't be what it used to be as growth in the world's biggest energy importer slows as it matures.
But, it also puts pressure on OPEC members themselves. Aside from Kuwait and Qatar, the other 10 members won't be able to balance their books with oil prices at current levels, according to Bloomberg.
It begs the question as to why OPEC won't cut production. They seem to imply that they will allow market forces to work but the pressure on shale producers suggest a slightly different motivation for the oil cartel that's been operating for half a century.
Market gyrations
But, OPEC also accounts for less than half of global oil production so their market power has also receded with the rise of both shale and non-OPEC oil producers.
Of course, lower energy prices are not all bad news. It's not just airlines who benefit, we could too.
For instance, the US Energy Department estimates that on current trends, petrol prices could drop 23% to $2.60 per gallon next year. I've already seen reports of sub $2 per gallon in America. Lower prices will eventually benefit Brits and Europeans too, as well as other energy importing countries.
Cheaper energy prices would be welcome after a decade which saw oil prices jump from $25 per barrel to nearly $150 even during a global financial crisis.
The uncertain road of getting to a new market equilibrium of cheaper prices is what's causing market gyrations. And, of course, as Middle East geo-politics could throw a wobbler into any price forecast, how OPEC members cope with this transition will be closely watched.