KFC owner Yum Brands suffers from slow sales in China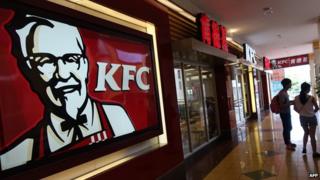 The owner of KFC and Pizza Hut restaurants, Yum Brands, has once again slashed its profit forecast for the year, due to slower sales in China.
The US company said its full year profit growth would be in the "mid-single-digit" percentage, down from the 10% it had forecast in October.
Earlier in the year, the firm had predicted growth of at least 20%.
The group has been hurt by a slower than expected sales recovery in China after a food safety scandal in July.
Customers in Yum's biggest market became weary of eating at its KFC restaurants, after the brand was linked to supplier Shanghai Husi Food, which was accused of selling old meat.
KFC, along with fast food giant McDonald's, stopped using meat from the supplier after its operations were suspended in July.
'Negative' store sales
"China division sales were significantly impacted by adverse publicity in July regarding improper food handling practices by a former supplier," the firm said in a statement on Tuesday.
"Sales continue to recover, but at a slower pace than expected."
Yum now estimates that its sales in China will be in the "negative mid-single digits", when compared with the year before.
Despite its widely publicised troubles this year, the company does expect to see a turnaround, and is forecasting at least 15% operating profit growth in China next year.
However, news of Yum's second cut to profit growth this year sent its New York listed shares tumbling as much as 6.5% in after hours trade.