Supreme Court rejects Amazon hourly pay case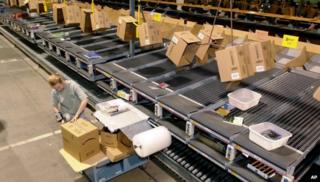 The US Supreme Court has ruled that workers at an Amazon warehouse are not entitled to be paid for time spent waiting in lines before or after their shifts.
Workers for the Amazon contractor that staffs a Nevada warehouse, Integrity Staffing Solutions, said they often had to wait as long as 25 minutes for mandatory security checks.
The Court rejected their claim in a unanimous decision.
Amazon was not involved in the lawsuit.
In its ruling, the Court said that US law does not require firms to pay employees for time that is unrelated to their primary job.
"Integrity Staffing did not employ its workers to undergo security screenings, but to retrieve products from warehouse shelves and package those products for shipment to Amazon customers,'' wrote Justice Clarence Thomas.
Earlier, the Ninth US Circuit Court of Appeals had ruled that the employees should be compensated, because the security screenings were for the employer's benefit and were thus part of the workers' jobs.
The case was brought by Jesse Busk and Laurie Castro, two former Integrity employees who worked at the Amazon warehouse in Nevada.
Their lawyers argued that waiting in security lines to have their belongings searched was part of the employees' daily working hours, and that they should be compensated.
"The well-known idiom 'time is money' obviously does not apply to working people,'' said their lawyer, Josh Buck, after the ruling.