Canary Wharf owner rebuffs second Qatari bid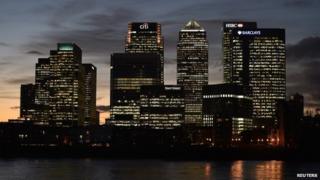 The company that owns the majority stake in London's business district, Canary Wharf, has rebuffed a sweetened £2.6bn takeover deal from a Qatari-led consortium.
Qatar Investment Authority (QIA) and Canada's Brookfield Property Partners raised their "final" offer to Songbird Estates from £2.2bn a month ago.
Songbird owns 69% of Canary Wharf Group.
In total, it owns property worth £5.5bn in the capital.
Among the other properties Songbird owns are the "Walkie Talkie" building at 20 Fenchurch Street in the City.
It comes after QIA and Brookfield took their new joint all-cash bid directly to shareholders on Thursday.
Responding to the offer Songbird said: "The board believes the offer from QIA and Brookfield does not reflect the full value of the company, its unique position and future growth potential."
The company pointed out the adjusted net value of its assets was 381p a share, compared with the current offer of 350p a share from the consortium.
QIA, which recently bought HSBC's head office in Canary Wharf, owns Harrods and Chelsea Barracks and has a 29% stake in Songbird.
The emirate is also behind the Shard skyscraper, through a separate vehicle.
Canary Wharf is preparing to start work on two major developments: a 60-storey tower with the first residential property on the estate and a 20-acre waterside site with 3,100 homes and office buildings, as well as a school and more shops.