Fuel duty to remain frozen until 2015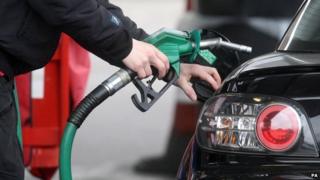 Fuel duty is to remain frozen, Chancellor George Osborne has said in his Autumn Statement.
The freeze will last at least until the end of this parliament in May 2015, the Treasury confirmed.
The next planned rise in duty is September 2015, the Office for Budget Responsibility (OBR) said.
Some motoring groups had predicted an early return of the fuel duty escalator, which would have pushed up prices.
The escalator allows petrol duty to increase by the level of inflation plus 1p per litre.
Oil prices have fallen in recent months, prompting the groups' concerns.
"Despite falling fuel prices let me make this clear: we've cut fuel duty and we will keep it frozen," Mr Osborne said.
'Unpopular practice'
Duty on unleaded petrol and diesel will stay frozen at 57.95 pence per litre, the level it has been since 2011.
"The negative impact of fuel duty on economic growth is now acknowledged by the Treasury," said David Bizley, chief engineer at the RAC.
"We had feared an early return to the fuel duty escalator system - a deeply unpopular practice which led to a series of fuel duty hikes - but, for now, it appears that is not going to be the case," he said.
In 2011 the government introduced a "fair fuel stabiliser" and scrapped the fuel price escalator, but said that if the price of oil fell below $75 a barrel for a sustained period, the escalator would be reintroduced.
Oil prices have been falling steadily in recent months, with Brent crude currently trading at about $71 a barrel, prompting the RAC fears.
The next rise in fuel duty is planned for September 2015, the Office for Budget Responsibility (OBR) said.
From April 2016 onwards, rate rises will be in line with Retail Prices Index (RPI) inflation, the OBR said.
Motorway signs
Meanwhile, the Department for Transport announced that it will trial fuel signs for motorway petrol stations early next year.
"For too long drivers have been ripped off by petrol prices on motorways," said Transport Minister Robert Goodwill.
"[The trial] will ensure people can see the cheapest places to fill up, encouraging greater competition between service stations," he said.
The department said in October that it was planning a trial of motorway signs, but it had not set a date.
Motorway fuel prices are advertised in advance in France, and used to be in the UK.