Families spending less than in 2006, says ONS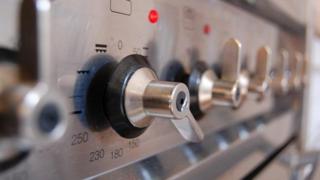 Family spending rose to £517.30 a week last year - but remains below pre-crisis levels when inflation is taken into account, official figures show.
Housing costs, such as rent and fuel, were top of the expenditure list, ahead of transport costs.
The amount spent per household rose from £501 in 2012, the Office for National Statistics (ONS) said.
But average household spending stood at £539.80 in 2006, after taking the rising cost of living into account.
Overtaken
The Family Spending Survey is compiled every year by the ONS.
It shows that £74.40 a week was spent on average on housing, fuel and power in 2013. This equates to 14% of household spending. However, this figure excludes mortgage interest payments, British council tax or domestic rates in Northern Ireland.
A rise in gas and electricity prices pushed this category to the top of the household spending list in 2013, the ONS said.
A previous big hit for family finances was transport, which was second on the list last year at £70.40. Nearly half of this was the cost of running a car, namely petrol, diesel, repairs and servicing.
Transport remained a significant expense for families in rural areas of the UK. In these areas, it cost £85.50 a week.
Overall, average weekly household spending for households in rural areas was £550.50, compared with £481.70 in urban areas from 2011 to 2013.
There was also evidence in the ONS figures of a north-south divide in spending.
In 2011 to 2013, families in the South East of England spent the most per week (£585.40), followed by households in London (£579.60), the East of England (£523.40) and the South West of England (£518.20). All four were above the UK average.
Families in the the North East of England spent the least at £424.60 per week, followed by Yorkshire and the Humber (£431.10) and Wales (£438.80).
The divide between rich and poor is also clear, with the lowest-earning 10% of households spending an average of £189.80 a week.
This compared with an average of £1,119.50 a week for the 10% of highest-earning households in the UK.
Household spending 2013
Food and non-alcoholic drinks
£15.60 on meat and fish

£4.30 on fresh veg

£3.30 on fresh fruit

£4.90 on non-alcoholic drinks
PA
Major areas of spending for households in general were recreation and culture (£63.90 a week). This category includes spending on TVs, computers, newspapers, books and package holidays.
The figures suggest that recreation takes a bigger chunk of family income than grocery bills.
Average weekly spending on food and non-alcoholic drinks in 2013 stood at £58.80, of which £15.60 a week was spent on meat and fish.