Tax cupboard is bare, says consultants EY Item Club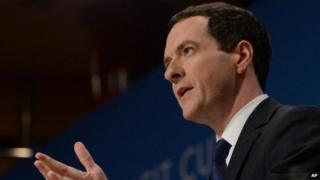 The EY Item Club is warning Chancellor George Osborne he will struggle to find any room for tax giveaways when he delivers this week's Autumn Statement.
The influential forecasting group says this year's growth forecast is likely to be raised by 0.25-0.5% but that will not be matched by higher tax receipts.
"The improvement in the public finances is in danger of not just stalling but going into reverse," EY says.
As a result, EY says Mr Osborne has "very limited room for manoeuvre".
The EY Item Club says the Office for Budget Responsibility (OBR) is likely to increase its 2.7% GDP growth forecast for this year by 0.25-0.50%.
The OBR's prediction now trails that of many other forecasters which have upgraded their outlook for growth to reflect the strengthening UK economy.
The International Monetary Fund is predicting 3.2% growth this year, the Bank of England 3.5% and the CBI 3%.
Weak
EY says that combined revenues from income tax, national insurance contributions and capital gains tax are expected to fall almost £9bn short of the OBR's March forecast in 2014-15.
Despite record levels of employment, income tax receipts have been weaker than expected, possibly because many new jobs are part time and low paid.
A slowing housing market has also meant a tailing off of income from stamp duty.
The forecast for Public Sector Net Borrowing (PSNB) for the same period is also expected to be revised up by £8bn to £95bn.
'Trumpet'
EY also expects borrowing forecasts for future years to be revised upwards, predicting the chancellor will deliver a surplus a year later than he originally planned, in 2019-20.
Martin Beck, senior economic advisor to the EY Item Club, says: "In recent Autumn Statements, the chancellor has been able to trumpet a series of upward revisions to the OBR's growth forecast as evidence that his economic plan is working. This time, that's where the good news is likely to end.
"The improvement in the public finances is in danger of not just stalling but going into reverse. With just five months to go it appears virtually impossible for the government to achieve the OBR's current forecast for borrowing in 2014-15."
Moderation
Meanwhile, manufacturers' organisation the EEF says UK manufacturers have enjoyed a "solid" end to the year with positive figures on output and orders continuing to feed through into investment and job creation.
But the manufacturing bosses' lobby group, whose report was put together with accountancy firm BDO, says manufacturers have moderated their outlook for growth next year.
It says global uncertainty, especially the weak performance of the eurozone, is contributing to a more cautious outlook in the short term.
The EEF's chief economist, Lee Hopley, said: "Despite some uncertainty ahead, the fact companies are maintaining their investment and hiring plans shows they have some optimism about prospects ahead. The chancellor can do his bit to back these plans by ensuring the business environment for companies planning to invest, recruit and get into new markets is a target for further action on Wednesday [in the Autumn Statement]."