Lufthansa cancels 1,350 flights as pilots strike again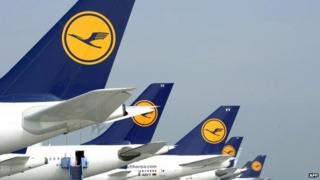 German airline Lufthansa has cancelled 1,350 flights, as pilots prepare to go on strike after talks between the carrier and pilots collapsed in a row over retirement benefits.
The cancellations will affect more than 150,000 passengers, Lufthansa said.
The pilots' strike is the ninth since April. Flights affected include both short- and medium-haul flights from 12:00 (11:00 GMT) until 23:00.
Lufthansa's long-haul and cargo flights will also be affected on Tuesday.
Europe's largest airline asked for new talks with union officials and called the strike disproportionate.
The airline wants to phase out its early retirement scheme, something the pilots are strongly opposed to.
They are currently able to retire at the age of 55 and receive up to 60% of their pay until the standard retirement age of 65.
Lufthansa said it had made concessions in recent talks, including giving the pilots a 5% pay rise.
The strikes this year have knocked $160m (£102m) off the airline's operating profits.
The union said "despite all efforts for compromise proposals" by Lufthansa pilots during several rounds of negotiations since October, it had been unable to come to a satisfactory agreement with the company's management.