Landlines get pricier, as callers hang up on old technology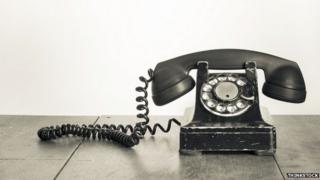 The cost of having a fixed-line telephone is going up significantly, as people spend less time using them.
Three of the biggest operators are raising their line rental charges on Monday by up to five times the rate of inflation.
Experts say consumers are switching to free technology instead, and operators are raising prices to compensate.
But BT, the largest UK operator, said the rise was simply a result of their regular annual price review.
Latest figures from the regulator, Ofcom, show that consumers spent three billion minutes fewer on their landlines in the year to June 2014, a reduction of 12.7% in one year alone.
As a result, operators lost out on £85m of revenue compared with the previous year.
"Call volumes are declining," said James Barford of Enders Analysis.
"People are using Facebook or WhatsApp, or even email if they're a little old-fashioned, so operators are having to recover their costs from increased line rental," he added.
---
Line rental charges
Sky: up by 6.49% to £16.40 a month
BT: up 6.25% to £16.99
Virgin Media: up 6.25% to £16.99
Talk Talk: up 4.7% to £16.70
---
Sky, BT and Talk Talk are all introducing their price increases from Monday.
Virgin Media introduced its increase on 24 November for new customers. Existing customers will be charged more from 1 February next year.
But BT disputed the idea that prices were going up because of falling usage.
"Whilst call volumes are going down, the number of landlines is going up," a BT spokesman told the BBC.
Ofcom figures show that the number of residential lines has risen, but has been more than offset by a fall in the number of business lines.
However, people are still spending longer on their mobiles, according to Ofcom, with the total number of minutes increasing by 2.3% in the past year.