Oil prices hit fresh four-year lows in wake of Opec meeting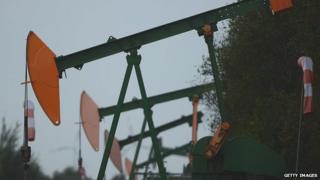 Oil prices hit a four-and-a half-year low in the wake of the decision by the Opec producers' cartel not to cut output.
Brent crude fell $2.43 to $70.15 a barrel on Friday. The last time Brent crude was priced this low was May 2010.
U.S. crude settled down $7.54 at $66.15 a barrel.
The price of Brent dived by more than $5 a barrel on Thursday after Opec announced no change to its production plans following a meeting in Vienna.
The 12 Opec members decided to maintain production at 30 million barrels per day, as first agreed in December 2011.
Several members of Opec had pushed for a cut in production to boost the price.
But Saudi Arabia, the largest producer within the oil cartel, favoured maintaining production at its current level.
Most members of the oil grouping require an oil price above $80 dollars a barrel to balance their budgets, but Saudi Arabia and some of the gulf states can sustain a lower oil price for a while thanks to state financial holdings and other diversified investments.
"There's a notion that yesterday's selling was overdone, but not everyone is fully back to work yet after Thanksgiving," said John Kilduff, partner at energy hedge fund Again Capital in New York.
He predicted the US benchmark oil future would continue to decline further.
'Welcome to the new world'
The price of Brent crude has now fallen by more than a third since June, with sluggish global demand and rising production from the US being blamed for the decline.
"Welcome to the new world of oil," said Michael Wittner, senior oil analyst at Societe Generale.
"Saudi Arabia and Opec will no longer be the mechanism to balance the market, they have relinquished that role.
"Instead, the market itself - prices, in other words - will be the mechanism to rebalance the market. We cannot overstate what a dramatic and fundamental change this is for the oil market."
Some analysts view Opec's decision as a tactic to keep prices below the level which makes extracting shale in the US economical.
"Opec is all in and will continue to flood the globe with oil in an effort to bury the US shale oil producer," said Phil Flynn, senior market analyst at the Price Futures Group.
The falling oil price continued to hit shares in energy stocks on Friday, with shares in oil giants BP, Royal Dutch Shell and Total all lower.
Shares in airline companies, however, rose on hopes that they will face lower fuel bills.