Eurozone inflation rate falls to 0.3%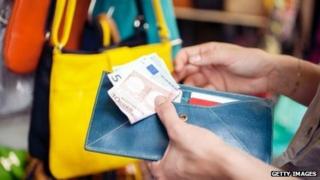 The eurozone's inflation rate fell to 0.3% in November, from 0.4% in October, suggesting that deflation remains a threat for the 18-nation bloc.
Eurostat, the European Union's statistics agency, said that the rate was pulled down by lower energy prices.
The European Central Bank considers anything below 1% to be in its deflation "danger zone".
The eurozone's low inflation is blamed for undermining growth, which has prompted ECB stimulus measures.
A fear among policymakers is that if deflation takes hold, consumers and companies will delay purchases in the hope prices will fall further.
Consumer inflation has not been at the ECB's target level of close to, but below 2% since the start of 2013 and has been falling since a 3% peak in late 2011.
Eurostat said energy prices fell 2.5% from October and by 1.1% on an annual basis. Core inflation, stripping out energy and food prices, was 0.7%, unchanged from October.
Earlier this week, Germany's inflation reading fell to its lowest for nearly five years.
Separately, Eurostat said eurozone unemployment remained at 11.5% in October, unchanged from September.
However, the number of unemployed actually rose by 60,000, the biggest monthly jump since January 2013.
'Clear danger'
In Germany, the October rate fell slightly to 4.9% from the month before, and was unchanged in France at 10.5%.
But in the eurozone's third largest economy, Italy, the rate reached a new record, jumping to 13.2% from a revised figure of 12.9% in September.
Jonathan Loynes, chief european economist at Capital Economics, said the inflation and jobless data "gives the ECB yet another nudge to take urgent further action to revive the recovery and tackle the threat of deflation".
With energy prices expected to fall further over the coming, Mr Loynes said, "we now expect the headline inflation rate to drop below zero at least briefly over the next six months and there is a clear danger of a more prolonged bout of falling prices".
---
Andrew Walker, Economics Correspondent
After the briefest of respites, the eurozone's inflation rate has resumed its downward path. The spectre of deflation or falling prices is a little closer. It's a problem for debtors as it means less revenue from sales, incomes or taxes - and Europe has a lot of people, businesses and governments with debt problems.
Once again, eyes will turn towards the European Central Bank, looking for further action. The ECB has already started something that looks rather like quantitative easing. It is buying a fairly modest amount of specific types of financial assets with newly created money.
The lower inflation gets the more it will consider whether to mount a much larger programme which involves buying government debt - as central banks in the US, Japan and Britain have already done.
---