Skills shortages holding back the UK's economic recovery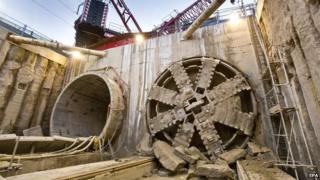 The UK's chronic skills shortage is hampering productivity and holding back the economic recovery, business leaders believe.
Kevin Green, chief executive of the Recruitment and Employment Confederation (REC), whose members are "on the front line of the UK labour market" as he puts it, paints an alarming picture.
"Last year we had nine areas of skills shortages, now we have 43 areas. Every single type of engineering is in short supply, from mechanical to software, civil to electrical," says Mr Green.
"In IT, coders, programmers, developers are all in short supply; there's a shortage of doctors and nurses in the National Health Service; and we need about 20,000 more teachers in the UK.
"And the situation's been getting worse month-on-month over the last 18 months," he adds.
Employers organisation the CBI concurs.
"Our most recent survey shows that skills shortages are becoming more acute, and risk acting as a break on our economic recovery," says Rob Wall, the CBI's head of employment and education.
"This is particularly true for high-level skills in sectors like engineering, technology, digital, manufacturing and construction."
Stemming the tide?
The consensus is that the UK is particularly lacking in workers proficient in Stem subjects - science, technology, engineering and maths.
The CBI found that nearly 40% of firms looking for staff with Stem skills have had difficulties recruiting, and about half thought the situation was only going to get worse.
The shortage is particularly acute in construction, encompassing as it does a wide range of disciplines from structural engineering to architecture, bricklaying to surveying.
"Quantity surveying was on a skills shortage list back in 2007," says Alan Muse, global director of the built environment at the Royal Institution of Chartered Surveyors (Rics).
"We never had enough in the first place. Then the recession meant people stopped investing in building, so many migrated out of construction into other sectors, using their transferable skills as experienced graduates," he adds.
'Severe shortage'
When the money taps were turned on again as the economy picked up, skills shortages became all the more evident.
According to one recent report by accountants KPMG and the London Chamber of Commerce and Industry (LCCI), about 20% more construction managers, surveyors, electricians and other trades will be needed to meet demand, over the next four years, than were needed from 2010-13.
House building targets are unlikely to be met as a result.
"About 400,000 people left the industry since 2008," says Richard Steer, chairman of Gleeds, a leading construction management company responsible for a wide range of projects, from nuclear power stations to luxury apartments.
So the industry is now suffering from a severe shortage of almost all skilled people.
"Brick factories closed down [during the recession] so house builders have suffered a huge shortage of raw materials and bricklayers," he says.
"Brickies are flocking to the South East leaving shortages in the regions," he points out.
Filling these gaps isn't easy, as training takes time and money.
"It takes about three or four years to become a good brickie," says Mr Steer.
These skills shortfalls mean the price of construction goes up "at a time when we're trying to create more social and affordable housing," he adds.
Employers in driving seat?
Identifying the problem is relatively easy; coming up with solutions is far harder.
In another recent report - Growth Through People - the UK Commission for Employment and Skills (UKCES) called for:
employers to take a lead in improving skill levels
more vocational pathways to work
more integration between the worlds of work and education
more apprenticeships
work experience to become an integral part of education
The report, which was endorsed by the CBI and the Trades Union Congress, concluded that the skills shortage crisis would only be addressed if industry, unions, government and educators collaborated on an agreed strategy.
The government has certainly been investing in traineeships and apprenticeships, but there is frustration among large employers that they have not been sufficiently involved in designing the schemes and courses.
"The system to date has been about government deciding what skills are needed rather than employers," says the CBI's Mr Wall.
"We want to see a system that is simpler and that puts employers in the driving seat."
Recent reforms to the apprenticeships scheme, implemented by Business Secretary Vince Cable, have been welcomed by business.
But most organisations agree that more could be done to remove the stigma attached to vocational subjects in schools, colleges and universities.
"Vocational routes are seen as second class and that isn't acceptable," says Mr Wall.
"Germany, South Korea and Switzerland have much more successful vocational routes to employment."
Skills Minister Nick Boles is trying to do this by encouraging university-style graduation ceremonies for successful apprentices.
Skilled immigrants
While immigration is currently a political hot potato, with most vote-chasing political parties promising to clamp down on it, the construction industry admits - with varying degrees of candour - that it needs more, not fewer, workers from abroad.
And rather than being swamped with cheap, immigrant labour, Gleeds' Mr Steer believes it is actually getting harder to attract foreign workers.
"There's less temptation for foreign skilled and unskilled labourers to come over now as their own economies have improved," he says.
This only adds to the skills shortages experienced within the industry.
His view is backed up by Oxford University's Migration Observatory, which found that there was a 39% fall in highly skilled immigrants coming to the UK from non-European Economic Area countries between 2011 and 2013.
Restricting visas for skilled immigrants is "absurd", says the REC's Kevin Green.
"It's bizarre that we invite people here to train them up, then don't ask them to join our labour market," he says.
"We've created 700,000 jobs in the last year and unemployment is falling, but employers are finding it more and more difficult to find the skills they need."
The UK's productivity paradox remains and skills shortages would appear to be a likely cause.