Gas bills: 1.5 million customers overcharged by faulty meters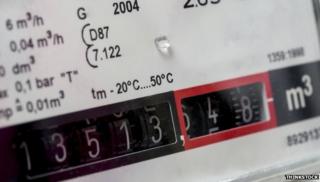 More than a million pre-payment gas customers have been overcharged because their meters are faulty, the industry has admitted.
About 1.5 million meters have not been working properly since they were installed, some as long ago as 2007.
The industry body Energy UK said customers may have been overcharged by as much as 25p for each top-up.
Those worst affected may have been overcharged by as much as £110, but most will have lost far less.
"We apologise unreservedly to customers," said Lawrence Slade, the chief operating officer of Energy UK.
"We have acted quickly, and we want those affected to get their money back as soon as possible," he told the BBC.
'Insult'
Customers will be automatically refunded by their energy supplier, and can have their payment cards updated when they take them for a top-up.
The meters were not properly calibrated to measure the cost of the gas being used.
Richard Lloyd, the executive director of the consumer group Which? said it was a "shameful example of energy companies failing their customers".
He said customers need to be reimbursed as soon as possible, and with interest.
On average, customers affected are likely to have lost up to £6.50 for each winter period, said Energy UK.
Citizens Advice said that pre-payment customers already pay £80 a year more to heat and light their homes.
"That overcharging has been going on for seven years shows the second-class service prepayment customers get," said Gillian Guy, Citizens Advice chief executive.
"Prepayment meter customers are already paying higher charges than direct debit customers, so this is adding insult to injury," she said.
British Gas, the largest supplier of gas in the UK, said more than 700,000 of its customers may have been overcharged.
---