Has Juncker over-hyped EU investment?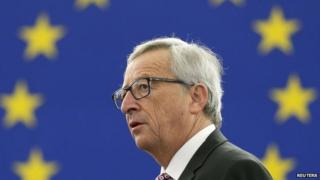 So is the European Union spending big money on infrastructure to spur growth, as the European Commission's president Jean-Claude Juncker would have us all believe?
Or is he engaging in clever financial engineering, whose impact will be - well - a bit uncertain?
Well the first thing to point out is that he has raised no new money for investment from European governments.
What is happening is €16bn from the current EU budget and €5bn from the European Investment Bank will be earmarked as guarantees for an estimated €63bn of lending by the European Investment Bank.
And it is hoped that private sector investors would then lend a further four euros for every euro of EIB lending.
So the total sum of funding for infrastructure and small businesses would leap to €315bn.
So hey presto, as if by magic, several hundred billion pounds of apparently vital investment is created out of nothing - with no apparent additional burden on European taxpayers.
Except that the problem with this kind of magic or financial engineering is that it can't be guaranteed to work.
It relies on investment institutions having enough confidence in the EU's future to stump up precious cash, with the benefit of some government protection against potential losses.
They may invest. They may not. It depends both on their assessment of the risk and what they have to pay Mr Juncker to protect the value of their capital.
Which is not to say that Mr Juncker's scheme won't succeed in spurring useful regeneration of European infrastructure and the creation of jobs.
It is just to say that the impact on EU prosperity is complicated, indirect and of questionable potency.
And another thing. Some will wonder whether, in an EU which has been flatlining for years in part because of its excessive debts, more debt is necessarily the answer.
That said, if debt-funded infrastructure spending is the answer, wouldn't it be better if Europe's biggest and strongest economy Germany did the borrowing directly on its own super-strong balance sheet, since its borrowing costs are spectacularly low, less than zero after adjusting for inflation.
But of course that would require a fiscal entente between EU countries for the benefit of all that remains conspicuous by its absence.