UK business investment in surprise fall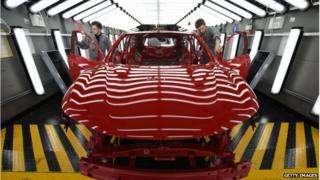 Business investment in the UK fell unexpectedly in the third quarter of the year, figures show, although consumer spending remained strong.
The Office for National Statistics (ONS) said business investment was 0.7% lower in the July-to-September period from the previous quarter.
However, consumer spending grew by 0.8% in the third quarter.
The ONS confirmed the UK economy grew 0.7% in the quarter, unchanged from its initial estimate a month ago.
It also confirmed that the economy grew by 3% compared with the same quarter a year earlier.
'Cautious approach'
During the April-to-June period, business investment had grown by 3.3% - its fastest pace for in nine years.
However, the fall in the third quarter of the year slowed the annual pace of growth to 6.3% from 11%.
Lee Hopley, chief economist at EEF, the manufacturers' organisation, said: "While business investment posted a bit of a dip, this isn't yet cause for concern as surveys of intentions across the private sector seem to be holding."
However, Howard Archer at IHS Global Insight said the drop could be "a sign that companies are adopting a more cautious approach in the face of increased global growth concerns (particularly weakness in the eurozone) and mounting political uncertainty in the UK as the 2015 general election looms".
"It is important for both balanced, sustainable UK growth and for improving productivity that that business investment holds up well going forward," he added.
This is the last snapshot of the UK economy before the government publishes its Autumn Statement next week.
The UK is one of the strongest performing of the major global economies, and the Bank of England has forecast that the economy will grow by 3.5% this year.