Eurozone area may be in 'persistent stagnation trap' says OECD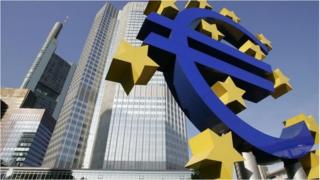 The euro area may be stuck in persistent stagnation, the Organisation for Economic Co-operation and Development has said.
Insufficient policy stimulus could be undermining potential growth, and risks deflation in the area, the market economy group said.
Meanwhile, Japan will grow less than previously expected over the next two years, it said.
The US and the UK are expected to grow more strongly in comparison, it added.
The UK economy has been growing at a 3% annualised rate since the second quarter of 2013, and the OECD expects a strong pace of growth over the next two years underpinned by private consumption and investment.
US GDP is expected to grow by 2.2% in 2014, and by 3.1% in 2015, the OECD said.
By contrast, its growth forecast for Japan this year was slashed from almost 1.2% to 0.4% and for 2015 cut from 1.25% to 0.8%.
Figures released last week revealed that Japan unexpectedly fell into recession in the third quarter.
'Stagnation trap'
The OECD's report said that Japan was "arguably in an advanced stage" of economic stagnation, but said that the euro area may also be falling into a "stagnation trap".
"The euro area as a whole, and in particular the vulnerable countries, seems to be most likely to be affected by persistent stagnation tendencies," OECD said.
Its inflation forecasts of 0.6% for the euro area next year and 1.0% for 2016 are slightly more pessimistic than the EU's own forecasts, and far from the European Central Bank's target of just below 2%.
The GDP of the euro area is still below its pre-crisis peak, compared with the US and UK, which have surpassed theirs, the OECD said.
'Geopolitical risks'
Growth in the euro area "slumped as 2014 wore on", it said, and "will remain weak because of still-high public and private debt, tight credit conditions and high unemployment".
In addition, "the crisis-related hit to potential output has been significant" in the euro area, with investor confidence knocked by "geopolitical risks" in Eastern Europe, it said.
The OECD called for the European Central Bank (ECB) to introduce "additional stimulus measures to keep long-term interest rates constant over the coming two years" by stepping up asset purchases.
In September, the ECB introduced negative interest rates and a private sector bond-buying programme to try to boost the economy.