Mortgage approvals fall by 16% over a year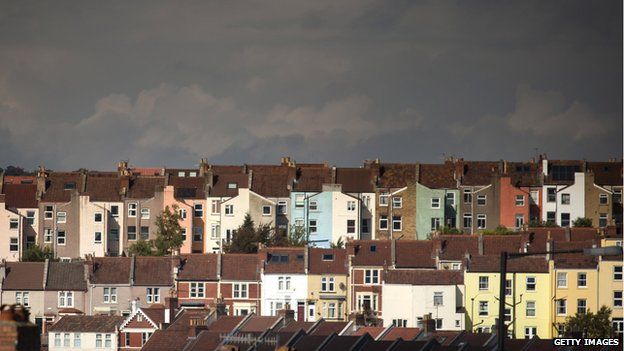 The number of mortgages being granted by Britain's banks has fallen by 16% over the last year - the latest sign of a slowdown in the housing market.
According to the banking industry body the BBA, in October home-buyers had 37,076 mortgages approved - the lowest figure for 17 months.
The value of those mortgages fell 13% over the year to just over £6bn.
Separately the Halifax predicted that house price inflation will moderate to as little as 3% next year.
The figures from the BBA show that mortgage approvals peaked at 48,649 in January this year.
"The BBA data adds to now pretty widespread and compelling evidence that the housing market has come well off the boil," said Howard Archer, the chief UK and European economist with IHS Global Insight.
However other experts predicted that mortgage lending will soon return to growth.
"With mortgage rates falling to new record lows, the economy set for robust growth and uncertainty over leverage ratios lifting, conditions for a gradual recovery in lending are favourable," said a note from Capital Economics.
At the same time the Halifax - part of the Lloyds Banking Group - has predicted a significant slowdown in house price inflation next year.
It expects prices to rise by between 3% and 5% during 2015. At their peak, in July this year, house prices were rising by 10%.
It said that a rise in interest rates next year is likely to weaken house prices.
And it predicted that prices would be affected by uncertainty over the general election in May.
There have already been suggestions that Labour's suggestion of a mansion tax is hitting the value of properties in London worth more than £2m.
But Martin Ellis, Halifax's chief economist, said demand for housing would still be supported by continuing economic growth of around 3% a year into 2015.
"Average earnings also appear set to rise more quickly than inflation next year, with the first gain in 'real' earnings for several years stimulating demand," he said.
IHS Global Insight has predicted house price inflation of 5% next year. Capital Economics predicts a 4% rise.
However the Centre for Economics and Business Research (CEBR) expects prices to fall by 0.8% in 2015.
The Nationwide Building Society, meanwhile, announced that its own mortgage lending fell by almost £1bn over the last year.
It said it lent £13.1bn in the six months to September 30, down £900m compared to the same period last year.
But pre-tax profits more than doubled to £598m as its share of the current account market rose.
New rules, known as the Mortgage Market Review (MMR), were introduced by the Financial Conduct Authority in April to ensure that borrowers could afford to pay back loans.
Despite growing competition in retail banking, the society said it was confident of remaining a top three provider of mortgages and savings products. It had an 11.9% share of the mortgage market and 10.6% of the savings stock.
The core tier 1 ratio - a key measure of financial health - has risen to 17.6%, which Graham Beale, Nationwide chief executive, said underlined its position as a safe and secure financial services provider.
Related Internet Links
The BBC is not responsible for the content of external sites.