The young and workers at greater risk of poverty, says report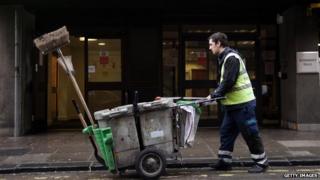 While the elderly and the unemployed used to be at the greatest risk of poverty, it is now the young and those in work who are most vulnerable, a new report has claimed.
The Joseph Rowntree Foundation (JRF) says there has been a big fall in pensioner poverty over the last decade.
At the same time there has been a rise in the number of adults under 25 who are hard up - and in the working poor.
But the government said poverty was now at its lowest levels since the 1980s.
The report, written for the JRF by the New Policy Institute, says there has been a "vast increase" in insecure work, such as zero-hours contracts, and low-paid self-employment.
In total, it claims there are around 1.4 million contracts that do not guarantee a minimum number of hours of work.
As a result, two-thirds of people who found work last year are paid less than the Living Wage, it says.
'High costs'
There has been some good news though.
The report acknowledges that pensioner poverty has fallen significantly, and the employment rate across the UK is close to its historic high.
But incomes are lower, on average, than ten years ago.
Men in full-time work have seen their real-term salaries drop from £13.90 an hour in 2008, to £12.90 in 2013.
Women's salaries have dropped from £10.80 an hour to £10.30 over the same period.
And the average self-employed person earns 13% less than they did five years ago, claims the report.
"A comprehensive strategy is needed to tackle poverty in the UK," said Julia Unwin, chief executive of the JRF.
"It must tackle the root causes of poverty, such as low pay and the high cost of essentials," she said.
Living standards
But the government insisted that plenty is being done to eradicate poverty, which is now at its lowest for nearly 30 years.
"The truth is, the percentage of people in the UK in relative poverty is at its lowest level since the mid-1980s," said a spokesperson for the Department for Work and Pensions (DWP).
"And the number of households where no one works is the lowest since records began," she added.
She said the only way to raise living standards was to work through a plan to build a resilient economy.
As a result of that she said the government had been able to announce the first real-terms increase in the National Minimum Wage since the recession.
The National Minimum Wage rose by 3% on 1st October this year, from £6.31 to £6.50 for adults.