Aviva shares hit by £5.6bn merger talks with rival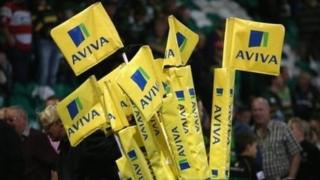 Aviva's shares have fallen by more than 5% and Friends Life have risen by close to 6% in early trading following the insurers' announcement that they are in talks about a possible £5.6bn merger.
The firms said on Friday that they had agreed the terms of a possible deal.
A tie-up would create the UK's leading insurance, savings and asset management firm by customer numbers.
Monday was the first opportunity for investors to react to the potential deal.
Aviva said the deal would strengthen its balance sheet and help drive future growth.
But Panmure Gordon analyst Barrie Cornes said the share price fall indicated shareholders were still uncertain over the benefits of the potential deal, which appeared to contradict Aviva's plans to expand overseas.
"It's a surprise. Aviva seems to be moving into an area that doesn't seem to be particularly attractive. The UK market is very mature and there is not much in the way of growth opportunities," he told the BBC.
However, fund managers said the potential merger made sense following a radical overhaul of the pensions market ending the compulsory purchase of annuities - products which provide an income in retirement.
The changes mean sales of annuities - one of life insurers' most lucrative products - have dropped sharply.
'Sensible reasons'
"The new annuity rules have killed off one of the few growth propositions. I think we'll see a bit more of this in the industry as firms respond to that pressure," Standard Life's head of equities, David Cumming told Radio 4.
"It's a financial transaction. They've seen the opportunity to make money, take costs out and do it at a reasonable price," he added.
James Bevan, chief Investment Officer at CCLA Investment Management, said there were "sensible reasons" for the deal.
"It's a decent operational fit and the business will have greater scale. The whole regulatory positioning has changed Aviva's perspective on how it wants to add value in the longer term," he added.
If the deal goes ahead, Friends Life shareholders would receive 0.75 Aviva shares for each share they own, meaning they would own just over a quarter of the enlarged firm.
Under Takeover Panel rules, Aviva now has until the end of 19 December to make a firm offer, or walk away for at least six months.