RBS apologises for 'incorrect' evidence to MPs' committee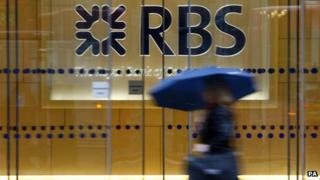 Royal Bank of Scotland has apologised for giving incorrect evidence to a parliamentary hearing, it has emerged.
Bank directors appeared before the Treasury Committee in June to answer claims that RBS's Global Restructuring Group (GRG) had deliberately killed off viable firms.
Newly released letters show that RBS chairman Sir Philip Hampton later said some of the evidence "lacked clarity".
Committee chairman Andrew Tyrie branded the evidence as "unacceptable".
GRG handled RBS's loans to companies considered to be a possible risk.
But there were allegations that some viable companies were deliberately forced to close by GRG.
A report by Lawrence Tomlinson, adviser to business secretary Vince Cable, claimed that RBS was making money out of small and medium-sized business that were in financial distress.
One issue of concern for the committee was whether GRG was itself being run to make a profit. But senior directors Derek Sach and Chris Sullivan gave evidence to the committee that suggested this was not the case.
However, in his subsequent letter to Mr Tyrie, Sir Philip did accept that GRG was a profit centre, adding: "This lack of clarity on an important point is very disappointing to the committee as it is to me, and I apologise."
But he said the two executives had made an "honest mistake" when addressing the committee.
'Manipulated'
In his response, Mr Tyrie also questioned the reliability of other evidence, including the extent of GRG's powers, and statements given about a West Midlands-based company used to publicise the division's success.
This company, metals processor Independent Slitters, was said to have been a GRG success story and the business was happy about its relations with the RBS division.
But after the hearing, the firm wrote to Mr Tyrie, saying it was far from satisfied with the way GRG operated.
Chief executive Daniel Wharrad said Independent Slitters had been "manipulated and played to enhance the public perception of GRG's work".
In a statement accompanying the release of the letters, Mr Tyrie said: "Parliament expects witnesses to give straightforward evidence. Two senior managers at RBS fell short of this standard at a hearing with the Treasury Committee in June.
"Anybody can make a simple mistake in their evidence. But this was more than that - it was materially incorrect on a crucial point and unacceptable.
"RBS has done the right thing and apologised.
"It is vital to a sustainable economic recovery in the UK that access to finance for SMEs, from banks and elsewhere, be restored to working order. The reality on the ground behind all this is hundreds of thousands of small businesses - crucial to sustaining our recovery."
Mr Sach and Mr Sullivan also wrote to Mr Tyrie following their appearance before the committee in order to clarify parts of the evidence they had given, and RBS said any confusion was "not intentional".
Earlier this year, a report by law firm Clifford Chance and commissioned by RBS concluded that there was no evidence any companies had been deliberately forced to close by GRG's actions.
A Panorama documentary, Did the Bank Wreck My Business?, is due to be broadcast on BBC One on Monday at 20.30 GMT.