Supermarket price war blamed for food producers folding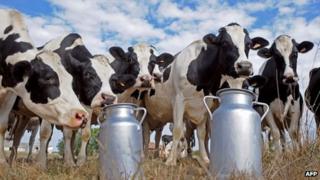 A supermarket price war is being blamed for a sharp rise in the number of food producers going bust.
So far this year 146 food producers have entered insolvency, up from 114 last year, according to research by accountancy firm Moore Stephens.
The company said supermarkets are squeezing producers in order to cut check-out prices and boost profits.
But the British Retail Consortium said it was "too simplistic" to blame supermarkets for the rise in failures.
Moore Stephens said the rise in food producer insolvencies was in contrast to the 8% fall in company liquidations generally in the 12 months to the end of September.
Duncan Swift, a partner at the firm, said: "The supermarkets are going through the bloodiest price war in nearly two decades and are using food producers as the cannon fodder.
"Supermarkets have engaged in questionable buying practices for years, but it's getting worse and clearly wreaking havoc on the UK food production sector."
Tough competition in the supermarket sector has intensified with the rise of discounters such as Lidl and Aldi.
Despite being squeezed, food producers are reluctant to speak out, Mr Swift said.
"The fear of losing business from supermarkets means that food producers rarely - if ever - complain about clear breaches of agreed industry standards.
"That means there is no check on the highly aggressive buying practices of the supermarkets," he said.
'Code of practice'
But the comments were dismissed by the British Retail Consortium.
A spokesman said: "All major supermarkets know the only way to deliver consistent quality and value in a competitive market is by building long term sustainable relationships with their suppliers. That's why so many suppliers have worked with the same retailer for so long.
'It is far too simplistic to blame retailers for this. Firstly there may be a number of reasons for failure and we don't know if they supply retailers, and even if they do they are likely to have other customers.
"Secondly retailers operate in a highly regulated supply chain with a strict code of practice governing contracts and an adjudicator appointed by Parliament specifically to ensure fair dealing," he said.