Will 0% interest credit card deals lure many into debt?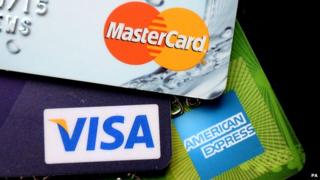 This Christmas millions of us will pay for our shopping with a piece of plastic.
And card providers are competing increasingly hard to win our business, offering cash-back deals, extended interest free periods, and even no fee balance transfers.
A survey by Sainsbury's Bank shows that 15% of people who buy big ticket items are not opting to pay for them using 0% interest cards.
The retailer says it shows consumers may be paying back far more than they need to.
Spiral of debt
However, studies from the University of Bristol's personal finance research centre have shown that interest-free deals can lure some people into spending more than they can afford.
Unless used with caution, they can trap people in a spiral of debt.
Almost £14bn is spent on credit cards each month in the UK, with the average card transaction being just under £50.
In the last Office for National Statistics Wealth and Assets survey, a quarter of us had an outstanding balance on a credit card.
According to Sainsbury's Bank the most popular big ticket purchases on a credit card are home improvements (69%), holidays (28%), technology (18%), white goods (10%), furniture (11%), and even cars (4%).
It has calculated that an individual using a card with the market average annual percentage rate (APR) of 18.9% would spend an extra £268.36 paying back a £2,000 purchase over 18 months, compared with a 0% interest card.
Simon Ranson, head of banking at Sainsbury's Bank, said: "If consumers are planning to make a big purchase, it is worth looking at all payment options available to ensure that they are getting the best possible deal.
"Using a credit card with no interest on purchases is a good way to spread the cost of a big purchase by making the costs more manageable, without having to pay extra."
Debt problems
So, should more shoppers be seeking out interest free deals?
Danny Cox, a financial adviser at wealth manager Hargreaves Lansdown, says some zero interest cards can be better than taking out a personal loan.
But he stresses that consumers need to be very strict with repayments.
"People should set up a direct debit to repay the full amount during the interest fee period," he says. "If they don't, at the end of the term some could find themselves paying very high rates of interest."
Consumers should not assume that they can "easily roll over onto another 0% deal," he argues, because "such offers might not be available to them in a year or two. Since the financial crisis lenders have been a lot stricter about the amount of credit they offer.''
Slippery slope
Andrea Finney, senior research fellow at the University of Bristol, studies people's attitudes and their understanding of credit cards.
Through talking to people in focus groups and carrying out in-depth interviews with people in debt, she has come to the conclusion that 0% deals can be the start of a slippery slope into debt for some.
'"The danger comes when people may have transferred a large balance to a 0% interest card, but then fail to close the initial account and cut up the card, tempting them into using it again and building back up another debt.
"It can lull some people into a false sense of security.''
Many people don't understand how credit cards work, she says, and underestimate the impact the extra payments will have when the interest-free period comes to an end.
"Some people also don't fully understand that an interest-free period for purchases may not be the same as that offered for balance transfers," she warns.
So, as always, when a deal looks too good to be true, it pays to read the the small print.