British Gas owner Centrica sees profits hit by mild weather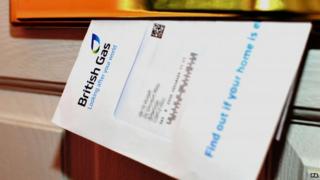 British Gas owner Centrica has reduced its earnings forecast, as milder winter weather cut into its revenues.
The firm said the average residential gas consumption for the first 10 months of the year was 21% lower than in 2013, while the average electricity consumption was down 7%.
It added that the average fuel bill is expected to be £100 lower as a result.
Centrica also warned that falling oil and gas prices could "significantly" impact its business.
"We will likely spend less on finding gas as commodity prices come down," a spokesman told journalists.
The company said the number of British Gas residential customer accounts fell by 50,000 in the months since June, but has recently begun to grow.
Despite cutting its earnings-per-share forecasts by 2p, Centrica said it expected to see a "return to more normal weather conditions," which would boost its year-end profits.