Why is Formula 1 in crisis?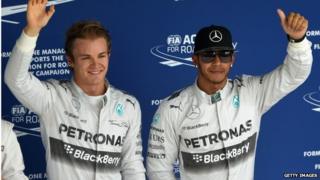 At Sunday's Abu Dhabi Grand Prix, the new Formula 1 world champion will be crowned.
An intense season-long battle between Mercedes drivers Lewis Hamilton and Nico Rosberg will come down to the final race of the year.
From that point of view, it's a Hollywood scriptwriter's dream and the season has been a roaring success - at least if you're a Mercedes fan.
But behind the scenes, Formula 1 appears to be in crisis, with rows over money threatening to overshadow the on-track finale.
At issue is why, in a sport with an overall turnover of more than $1.7bn (£1.1bn), and which generates very healthy profits for its commercial rights holders, some teams simply can't make ends meet.
The Marussia team closed its doors earlier this month, while the Caterham squad remains in administration and effectively had to ask its fans for a handful of small change - through a crowdfunding exercise - in order to make it to Abu Dhabi.
Meanwhile three other teams, Lotus, Force India and Sauber, are demanding a bigger share of the revenues generated by the sport, to help them survive.
So what is going on?
The money coming in
The first point is that F1 is indeed pretty rich. Over the past decade, its strategy has been to move into new markets, where governments are reportedly prepared to pay more than $20m a year for the right to host a grand prix.
This is why F1 was willing to hold a race in Russia, despite Moscow facing intense international criticism, not to mention sanctions, over its actions in Ukraine.
It is why Azerbaijan is due to host a grand prix in 2016, despite widespread concerns over the country's human rights record.
The cost of TV broadcast rights in key markets has also been ramped up steadily, with pay-per-view companies increasingly taking over from free-to-air broadcasters. This may not be popular with fans, but it raises plenty of revenue.
All this has certainly proved lucrative for F1's shareholders, a group of investors led by the private equity group CVC Capital Partners. They have often faced criticism for taking too much money out of the sport.
But in fact, it has also been good news for the teams. Last year, they shared a prize fund worth $798m.
The problem, as BBC F1 writer Andrew Benson has already explained, is that this money is not divided at all equally. Essentially, the big teams consume most of the cake. So while Marussia was given just $10m from the fund last year, Red Bull and Ferrari are widely understood to have received more than $150m each.
The money flowing out
Yet such inequality is nothing new in F1. What has changed is the amount of money teams have to spend, simply to get themselves on the grid.
Under pressure from manufacturers who want racing technology to be relevant to the road cars they build, F1 introduced new hybrid engines this year featuring powerful electric batteries and energy recovery systems.
In technology terms it was a huge leap forward. Grand prix cars now use a third less fuel than they did last year.
But it also pushed up costs dramatically.
Teams that had been paying $10m a year for their engines suddenly had to find up to $25m.
At the same time, F1's smaller teams have been struggling to find money from other sources. While big players such as Ferrari, Red Bull and Mercedes have little trouble raising commercial sponsorship, the minnows of the grid have found life more difficult since the financial crisis.
According to Gerard Lopez, co-founder of investment firm Genii Capital and principal of the Lotus team, introducing the new engines at such a time was a big mistake.
"It was logical at the time to cut costs, and instead we have one of the biggest cost increases in the history of F1," he says. "It was a bit ridiculous in the economic climate."
Christian Sylt, editor of F1 financial research firm Formula Money, agrees: "A lot of people point the finger at the prize money distribution, saying that's the root cause of all F1's problems, but there's no evidence of that.
"It was the same situation last year and no-one went to the wall. What's different now is that teams are suddenly having to pay double for their engines."
Live within your means
Not everyone is sympathetic towards the smaller teams, however.
Motorsport consultant Ian Phillips spent much of his career working for small, cash-strapped F1 teams, including what is now Force India.
"You have to operate within the limits of what you have. These teams have a history of spending what they haven't got.
"Everybody always wants more - but you've got to earn it."
In fact, cost control has been a hot topic in F1 for many years. In 2009, the sport's governing body, the FIA, attempted to introduce a budget cap of £40m ($60m). Four new teams agreed to enter the championship in 2010 on that basis.
But opposition from the big teams meant the cap was never introduced. Of the four new teams, one never made it to the grid, two have since collapsed, and one - Caterham - is in administration.
Recently the FIA tried again - this time looking at a spending cap of about $200m per team, but again it was rebuffed.
"If teams disappear from time to time it isn't necessarily a big issue for the sport," says Christian Sylt. "Where it becomes an issue is if those teams start to disappear and not be replaced, and that's the concern now."
A new deal?
This is why attention is now focused so firmly on the way F1's riches are doled out. It may not be the root cause of the sport's problems - but the smaller teams think it can be part of the solution.
"We have proven that we can race well with a third to a half of what the big teams are spending," says Gerard Lopez. "So it's a bit shameful that they want to keep all of that money."
He thinks a new deal is essential to the future of Formula 1.
"There is enough money in the sport to guarantee it will be there, be healthy, for a long, long time," he says.
"But the current system just doesn't hold up. It's completely wrong."