Bankers' bonus cap: UK to get signal in battle with EU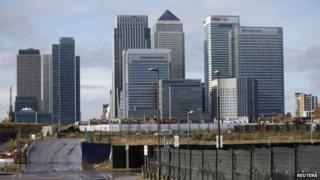 The UK government is due to receive an indication on whether its battle to overturn an EU law on bankers' pay is likely to succeed.
A legal adviser at the European Court of Justice will give his opinion of the government's objections to the law.
The EU introduced a cap on bankers' bonuses in January this year.
The government has asked the court in Luxembourg to consider six arguments challenging both the scope and the legal basis for the new rules.
Non-binding
The law limits annual bonuses within banks to the equivalent of one year's salary, or two years' salary if shareholders give their approval.
It is designed to reduce the incentives for bankers to take excessive risks, which was seen as one of the major causes of the financial crisis.
The government argues that big banks are likely to replace one off bonus payments with higher basic salaries, which are more difficult to cut when the business climate deteriorates and that the new rules may persuade bankers to relocate outside Europe.
The opinion of the advocate general is not legally binding, but the Luxembourg court may consider his reasoning in reaching its verdict.
A final ruling is not expected until next year.