Bank of England voted 7-2 to hold interest rates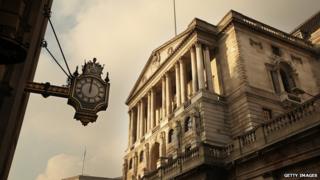 Persistently low inflation prompted a majority of members on the Bank of England's Monetary Policy Committee to keep interest rates on hold.
Seven members voted to keep rates at 0.5%, while two wanted a rise to 0.75%.
The minutes of the November meeting showed that Ian McCafferty and Martin Weale again voted for an increase.
The minutes said that there had been a "material spread of views" on the committee on the risks to the outlook for inflation.
"For most members, the outlook for inflation in the medium term justified maintaining the current stance of monetary policy," the minutes stated.
There had been some market speculation that either Mr McCafferty or Mr Weale would stop voting for an immediate rise in rates, which they have done since August.
Sterling rose by half a cent to $1.5648 and strengthened against the euro after the minutes were released.
The minutes stated: "Below-target inflation was judged to be partly the consequence of a margin of spare capacity bearing down on domestic costs and prices.
"A prolonged period in which inflation was below the target created at least the possibility that medium-term expectations of inflation would begin to drift downwards. This had the potential to lengthen the period for which inflation itself would remain below 2%."
Inflation rose to an annual rate of 1.3% in October, up from 1.2% in the previous month, official figures released on Tuesday showed. The Bank aims to maintain inflation at 2%.
Last week, the Bank of England warned the inflation rate could dip to as low as 1% in the coming six months.
Interest rates have been held at 0.5% since March 2009 in a bid to aid economic recovery.
All nine members of the MPC voted to make no change to quantitative easing, or buying government bonds.