Post Office facing pre-Christmas strike action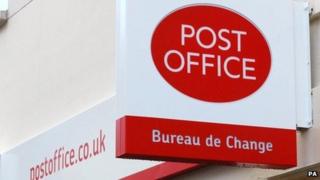 Post Office staff who work in the company's supply chain have voted in favour of strike action over pay.
The workers - who deliver and collect cash from post office branches - backed strike action by 76%, the Communication Workers Union (CWU) said.
The CWU said that a pre-Christmas strike was looking "inevitable" because the company was "refusing to negotiate".
The Post Office said its offer was "fair and affordable".
It added that any strike action would not include employees working in the Post Office's 11,500 UK branches.
Pay row
Dave Ward, CWU deputy general secretary, said: "Thanks entirely to the unreasonable attitude of Post Office management, a pre-Christmas national strike is looking inevitable.
"The workforce has made a major contribution to the company's success and have every right to their fair share."
Keith Rann, head of supply chain at the Post Office, said: "We would like to reassure customers that this ballot does not involve people working in our branches. We have made a fair and affordable pay offer.
"We are undertaking the biggest modernisation programme in UK retail history to ensure we become commercially viable and reduce our reliance on public money.
"We urge the CWU to reconsider their unrealistic demands and discuss an affordable pay deal rather than call strike action which can only cost our people money."
The Post Office says it is offering the supply team and the administration team a 5% pay increase over three years. Workers in the supply team will receive additional annual lump sums of between £200 and £500.