Wonga yet to pay compensation to thousands of customers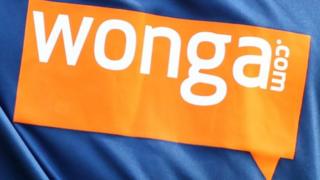 Thousands of people entitled to compensation from payday lender Wonga are yet to be paid by the company, MPs have heard.
Some 45,000 customers in arrears on loans were sent letters from non-existent law firms and are to be given a share of £2.6m.
But only 27,000 have been contacted so far, Wonga's chief credit officer Nick Brookes told the Treasury Committee.
He said some customers' details had changed and were difficult to contact.
An investigation by the Financial Conduct Authority (FCA) found that Wonga sent letters to customers from fake law firms called "Chainey, D'Amato & Shannon" and "Barker and Lowe Legal Recoveries".
The plan was to make customers in arrears believe that their outstanding debt had been passed to a law firm, with legal action threatened if the debt was not paid.
The company said that the tactic ended four years ago and, in June, promised to pay compensation.
This requires customers to accept an offer of compensation made by letter from Wonga. So far, only 5,000 customers have responded, with 99% of them accepting the offer of compensation.
Joanna Elson, chief executive of the Money Advice Trust, said: "The fact that so many customers are yet to respond to the letters that Wonga have sent out is a concern - you have to wonder how many of these envelopes have gone unopened.
"Given that many of those affected have been in financial difficulty and chased for payments in the past, it is understandable they may be nervous when another letter lands on their doorstep."
Adverts
Mr Brookes told MPs that Wonga and the payday industry as a whole was "at a crossroads", with a lot of changes being made.
However, he admitted that the company was only halfway through the process of changing its culture.
He said 330,000 customers are having their loans written off owing to failures in its original affordability checks.
New checks meant that some customers were now given a "cooling off period" if they had struggled to pay off previous payday loans, he said. Stricter checks were also carried out comparing the loan with the borrower's income.
He told MPs that loan applications typically took five to 15 minutes to complete online, with a decision often made instantly by the company on whether to offer a loan. This, he said, was in line with much of the industry.
The appearance at the select committee came as Wonga promised to remove adverts featuring puppets worldwide from all marketing channels, including YouTube, by the end of the year.
TV adverts in Poland and Spain continued despite the company cancelling similar ads in the UK because they appealed to children.