Virgin America shares surge on US stock market debut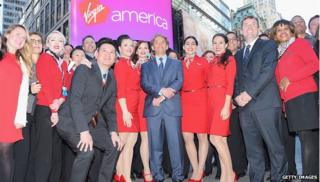 Shares in Richard Branson's Virgin America airline surged more than 30% in their first day of trading on the Nasdaq stock exchange in New York.
Mr Branson owns nearly 25% of the company, which is an offshoot of his London-based Virgin Group.
Virgin America started flying in 2007, and after several years of losing money, finally became profitable last year.
It reported profits of $10.2m (£6.5m) on revenue of $1.42bn in 2013.
Virgin America sold 13.3 million shares that were initially priced at $23, raising about $307m for the company.
Flying high
The airline primarily operates long haul flights within the US, such as from New York to Los Angeles.
With a fleet of 53 planes within the US and Mexico, Virgin America is known for its flashy amenities, including mood lighting and wireless internet.
However, the airline offers fewer destinations than some of its competitors, and consequently carries only a fraction of the total passengers of rivals such as Southwest.
Overall, US airlines are flying high, as lower oil prices have recently led to an increase in profits.
The US recovery has also led consumers to purchase more airline tickets, keeping planes full.
One index of US airline stocks hit a 13-year high recently, and analysts expect that upward flight path to continue.