Wonga removes logo from children's Newcastle football kit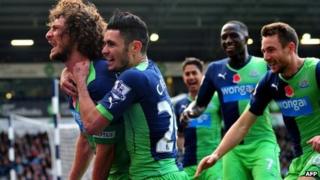 Payday loans company Wonga has agreed with Newcastle United football club to remove its logo from children's kit and training wear.
But Wonga said that due to kit production schedules this would not be until the 2016/17 football season.
The firm's new chairman, Andy Haste, said on his appointment in July that he would review the company's marketing.
Payday loan companies have been criticised for lending practices and are to have their charges capped.
Wonga has already ended its puppets advertising campaign in the UK.
Mr Haste has said he wants to ensure that its marketing does not inadvertently appeal to the very young or vulnerable.
Darryl Bowman, Wonga's marketing director, said on Friday: "As a responsible lender we believe removing our logo from children's replica shirts and training wear is the right thing to do. We appreciate the club's support in this matter."
Newcastle United's managing director Lee Charnley said: "We understand and respect Wonga's position and are happy to support their decision."
Last year, Newcastle's association with Wonga upset striker Papiss Cisse, a Muslim who objected to the shirt sponsor on religious grounds. He eventually agreed to wear the shirt after discussions with Islamic teachers.
Earlier this year, Wonga had to pay £2.6m in compensation after chasing struggling customers with fake legal letters designed to press them into paying up.
Mr Haste has admitted that Wonga made "serious mistakes".