Energy efficiency challenge at home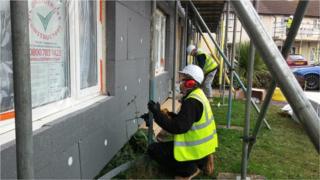 At this time of year, it is easy to notice that draughty room or inefficient boiler. And, according to one expert, the UK is falling way behind in its drive to cut energy wastage in its homes.
Andrew Eagles, the managing director of the consultancy Sustainable Homes, has told the BBC that substantial energy-saving measures need to be installed in 13,000 existing homes every week if the country is to ever meet its commitment to cut greenhouse gas emissions by 80% by 2050.
So far, it is estimated that fewer than 13,000 such homes have been "retrofitted" in total.
So what kind of changes can make the most difference and how much do they cost?
Energy rating
Wellesbourne in Warwickshire is a good place to find out. The social housing organisation Orbit is in the throes of upgrading an estate there, so it is easy to compare similar homes before and after they have been treated to some energy-saving measures.
Maria Norman's home may be welcoming and well-furnished, but there's no disguising the damp patch on the wall close to the old window in her daughter's bedroom. She tries to wipe off the black mould with a cloth but is only partially successful.
It is the concrete walls of her postwar house that seem to draw in the cold as outside temperatures fall. Its energy rating is a low "D", fairly typical of the UK as a whole.
Yet there are far worse around. Some houses can only muster an "F" or a "G". As an Orbit official joked, that is the lowest you can go, short of living in a greenhouse without glass in it.
Mrs Norman's expensive heat just seems to escape through the cavity-free walls, or leaks around and through the doors and windows.
"The cost of energy is very scary. I usually just put the heating on for an hour or two after work and keep it turned down for fear of not being able to pay for it," she says.
Insulation
On average, householders in unimproved Orbit properties face gas and electricity bills totalling £1,100 a year. When the work to install full external wall insulation is completed, Mrs Norman and her family can expect to pay about £200 a year less.
Up the road, her retired neighbour Pamela Bagguley is toasty warm in her "A" rated house. She is smiling as she brandishes her latest energy bill. She enjoys even bigger savings, paying £550 a year for gas and electricity.
Her house has become the estate's exemplar, a project to show off just what can be achieved with old properties. The loft, floors, and the external walls have all been insulated to the max. She has triple-glazed windows and high-performance doors. There is also a clever mechanical heat recovery system that extracts stale, warm air from the kitchen and bathroom and warms up the cold air being drawn into the property.
"It is such a very good system whoever thought of it. This place used to be freezing cold. Now it is so lovely and warm. So much so we hardly have to put the heating on at all," she says.
Cost issue
The social housing team behind these energy-saving measures in Wellesbourne have also been helping adjoining private homeowners on the estate to apply for any available government funding and have the work done at the same time.
But here we get to the crux of the problem. It seems homeowners are reluctant to shell out for such work because they think the payback will take far too long. Orbit says its current improvements offering 20% lower bills average out at around £6,000 per home.
It might take 12 years to get that kind of money back, though various government schemes could cut the initial £6,000 outlay.
Mr Eagles, of Sustainable Homes, points out that the UK shells out £2.4bn a year in fuel payments and warm home discounts. He says it is crazy to pay people to try and keep warm in leaky homes. Instead, money should be spent on insulation.
Having warmer homes puts less pressure on the NHS, he says. "Children are better able to do their homework and do better at school," he adds.
John Barnham, Orbit Group's head of sustainable investment, says fuel costs are only going to increase.
"At the moment the work here will offer people 20% savings. But if energy bills are up 60% by 2020 this will really start to make financial sense. Once you can get people involved they understand the need to get this kind of work done," he says.