Halliburton and Baker Hughes in merger talks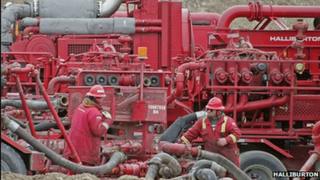 Oil services giants Halliburton and Baker Hughes are in merger talks.
Baker Hughes, the industry's third largest services provider, confirmed US press reports, adding that the talks were "preliminary".
Any deal with Halliburton, the sector's number two behind the far larger Schlumberger, is likely to face competition issues.
The firms provide drilling and logistics services, but have been hit by falling oil prices and higher costs.
The falling crude oil price has made exploration less economical and the big oil and gas producers have been cutting costs. A tie-up would allow the companies to better weather the downturn in the market.
A merged Halliburton-Baker Hughes would create a company worth about $67bn, employing initially 140,000 people. But its market capitalisation would still be half that of market leader Schlumberger.
Analysts said that antitrust authorities in the US, Europe and China would want to investigate the terms of any deal, and that a merged group might need to sell some assets before approval was given.