Twitter's debt assigned 'junk' status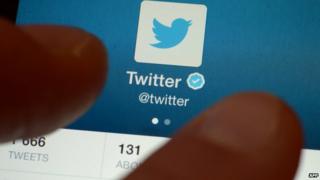 US ratings agency Standard & Poor's has given the debt of social media giant Twitter the rating "junk".
S&P said Twitter's $1.8bn (£1.1bn) September debt issue - IOUs sold to investors in return for interest - were worthy of a "speculative" rating of BB-, three notches below investment grade.
News of the rating sent New York listed Twitter shares tumbling nearly 6%.
The social network's push for acquisitions despite slow earnings growth was behind the low rating.
"The company is investing very aggressively in growth. Depending on the level of business reinvestment, Twitter may not generate positive discretionary cash flow until 2016," S&P said in a note.
Just last week, Twitter announced that it was opening an office in Hong Kong despite being banned from operating in mainland China to grow its advertising and sales reach.
Twitter troubles
In October, Twitter reported a disappointing 7% fall in timeline views per user - a closely watched measure of engagement - despite a 23% growth in its user base in the third quarter.
The company also said its fourth-quarter revenue might fall short of market expectations of $448.8m (£283m).
S&P said it could raise the rating if Twitter broadened its revenue sources, launched new products and maintained its market share, along with improving its profitability, and cash flows.
But, it also added that the rating could be downgraded still lower.
Twitter shares gave up most of the 7% gain made on Wednesday after the company announced it was considering creating additional mobile applications beyond its core messaging service and video app.
Its shares have lost 37% so far this year.