Over-30s more likely to move out of London, data reveals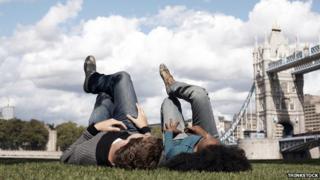 People aged 30 and over are more likely to pack their bags and leave London, than move into the capital from elsewhere in England and Wales.
The Office for National Statistics (ONS) says the soaring cost of housing, as well as concerns about raising children in the metropolis, are the most probable causes for this pattern.
Overall, 197,000 internal migrants moved to London in 2013, while 252,000 moved out.
However, the overall population rose.
The growth is due to higher birth rates and immigration from outside the UK, the ONS said.
The only group of people in which movers to London outnumber those moving out are those in their 20s.
This is "likely to be driven by young adults seeking work in London, potentially after they graduated from university," the ONS said, and the peak age for coming to the capital - 23 - would seem to back this up.
More young women move to London than men, possibly because there are more female graduates in the country as a whole, the agency added.