Non-bank operated ATMs on the rise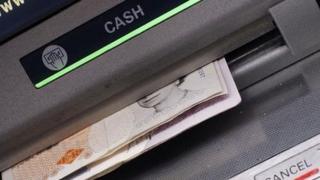 More than half of all ATMs in the UK are now owned by businesses other than banks or building societies.
This is the first time that the total number of cash machines owned by independent operators has overtaken bank-run ATMs.
Figures from network operator Link show there are 68,630 cash machines in the UK, with 34,733 owned by independent businesses.
Many are located in convenience stores, airports and railway stations.
"From small beginnings, the number of cash machines run by independent owners has grown enormously and they are now a vital part of the UK's ATM network," said John Howells, chief executive of Link.
The biggest independent operator, the figures reveal, is Cardtronics, which has machines in venues including service stations and shopping centres.
The data also shows that 72% of all cash machines across the UK do not charge customers for withdrawing cash.
Faced with competition from digital payments, cash machine companies are building new machines that act in a similar way to smartphones and tablet computers.